A master of Indian haute couture envisions the "impossible" for Paris.
Acclaimed Indian fashion designer Rahul Mishra is drawing inspiration from France and a fellow master from a different era as he puts the finishing touches on his most recent collection for Paris Fashion Week.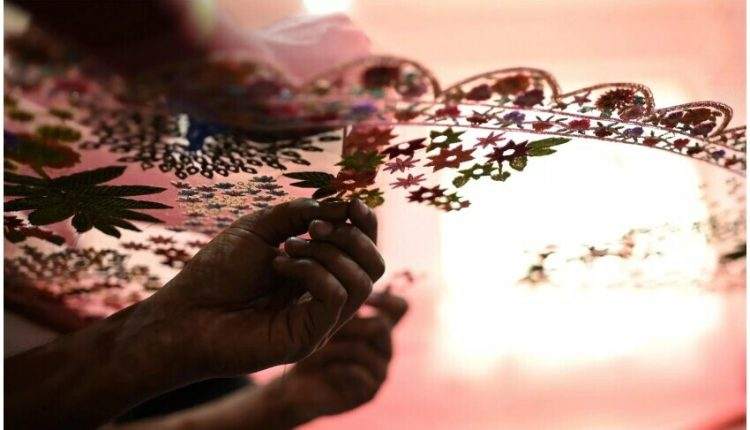 He told AFP, quoting the impressionist painter Claude Monet from the 19th century, "I want to achieve the impossible, I want to paint air."
Monet on canvas and Mishra in his extravagant haute couture gowns, celebrated for their bursts of embroidered floral color and petal-shaped ornamental flourishes, are both known for their artistic urge to depict nature.
The best fashion magazines in the world frequently feature Mishra's creations, which are modeled by movie stars like Michelle Yeoh and Cate Blanchett.
In his new workshop near New Delhi, India, dozens of designers, tailors, and craftspeople have been hard at work finishing the Cosmos line that he will debut on the Parisian catwalk on Monday.
Some people sit on mats in front of embroidery looms to meticulously sew flower motifs onto delicate sheer fabric. This demonstrates the power of Mishra's creative vision.
At his Noida workshop, renowned Indian fashion designer Rahul Mishra examines a dress with embroidery designs. Photo: AFP: "I dream a lot, I am often lost in a new world, in a kind of fantasy" The casually dressed 43-year-old walked between workbenches in Nike trainers to introduce his coworkers' work.
"I come back and share it with my team, I talk to them, and then that dream becomes a common dream and everyone starts believing in this idea," says the author.
In the years since he was awarded the International Woolmark Prize in 2014, one of the most prestigious awards in the fashion industry, Mishra's fantasies have come to fruition and become hot property.
In the same year, his work was featured on the Paris ready-to-wear runway by the French Fashion Federation. In 2020, he became the first Indian to be featured in its haute couture program.
Preoccupations with nature Since he was 10 years old, Mishra felt compelled to sketch the landscape and blooming flowers of his rural hometown. Since then, nature has been Mishra's most consistent source of inspiration.
Mishra's most consistent source of design inspiration has been nature. Photo: AFP Mishra almost gave up on his couture dreams before dropping out of college to study science. He did not have a mentor, but his doctor father encouraged him to pursue a more stable career.
Before attending school in Milan, the fashion capital of Italy, he enrolled at the National Institute of Design, India's premier creative arts school.
His recent artistic successes demonstrate how little he has left his roots.
The couturier's embodiment of spring was a sleeveless floral gown with 120 colors that stood out from the rest of his Tree of Life collection from last year.
He said, "This must be the most colorful piece I have ever done," and he said that each floor-length dress took 5,000 hours to make.
Mishra almost gave up on his couture dreams because he didn't have a mentor and his father was a doctor, so he wanted to work in a more stable field. Photo: AFP When the items from the collection went on sale, they sold for up to 12,500 euros, or $13,500.
He continued, "There are hardly 200 artists across India who are able to manage this kind of work in multiple colors." Reproducing the original work is more difficult than creating it.
"Celebrate mistakes" Mishra now intends to establish a global presence, launching a new ready-to-wear collection in Europe in March.
Mishra wants to use India's seemingly endless textile talent to create an alternative to fast fashion giants like Zara and Uniqlo. Photo: AFP A joint venture with Indian conglomerate Reliance, a major luxury brand distributor with exclusive ties to Armani and Balenciaga, will allow him to open his first European boutique in London later this year.
However, his ultimate goal is to use India's seemingly endless textile talent to create a "fairly serious" alternative to fast fashion giants like Zara and Uniqlo.
He stated, "Now is the right time."
"One day we'll be able to provide employment for more than a million people worldwide," says "my biggest goal."
Like many artists, Mishra's finished works reflect the agony and doubt that come from obsessing over minute details on a regular basis. This emotional struggle is also a source of creative inspiration.
At the New Delhi store of Indian fashion designer Rahul Mishra, a customer looks at dresses. Photo: He told the AFP, "We celebrate mistakes and failure." It is always celebrated the beauty of trying something new, the excitement, and the desire to try something new.
"I think more than the final fashion show… the process is what excites me most."