Another meltdown at PSX as benchmark sheds over 400 points
The Pakistan Stock Exchange (PSX) continued to experience intense pressure as the index dropped by another 415.33 points on Tuesday, reaching a low of 40,555.49.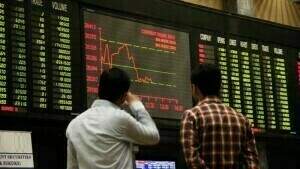 As the morning bell rang, the KSE-100 benchmark climbed to the day's high at 41,037.14 points before plunging to a low of 40,701.17 points.
The top active stocks painting the benchmark KSE-100 red included the technology and communication company with a negative change of 3.25%.
Earlier on Monday, the KSE-100 index ended the trading session at 40,970.82 points from the previously closed value of 41,301.48 on Friday.