Big hopes for small businesses: Women entrepreneurs in Iraq
Alaa Adel's success in a patriarchal Iraq is evidenced by the fabric and sewing machines that surround her at her studio in Baghdad called "Iraqcouture."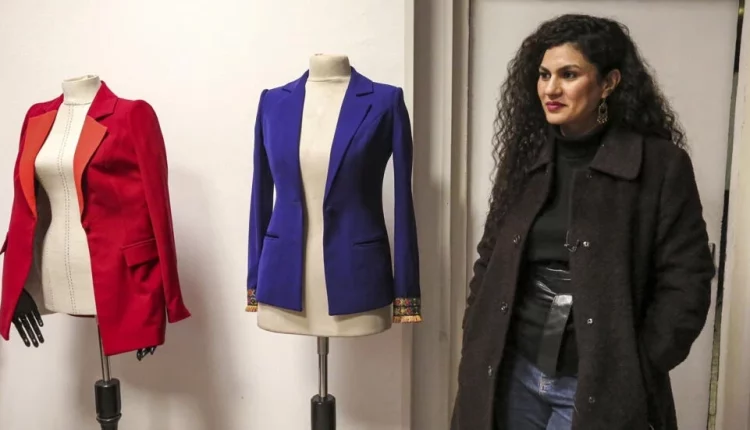 In a nation where the majority of women do not work outside the home, Adel, 33, considers herself to be one of the few female entrepreneurs.
Adel stated in her studio in the Karrada commercial district of Baghdad, "We have a social tradition that prevents many women from working."
She added that even for those who do, "it is not always that easy."
According to a report released in October by the International Organization for Migration, "prevailing customs and traditions… limit women's activities to their domestic and nurturing role."
Adel stated that prejudices of this kind and practical difficulties made it difficult for her to realize her dream.
Adel wanted to start her own fashion house and was a fashion and design specialist who graduated from the University of Baghdad.
I went to meet the people who give money to organizations that help the arts and culture. However, due to my lack of project planning expertise, my idea was consistently rejected, she stated.
Adel received training through the "Raidat" (Female Entrepreneurs) program of The Station, an Iraqi foundation funded by the French embassy in Baghdad. She claims that this gave her the confidence to start her own business.
Since Iraq's private sector is still in its infancy, obstacles make setting up a business more difficult and time-consuming.
In addition, widespread unemployment, widespread corruption, and a poverty rate of approximately 30% plague the nation, which is attempting to emerge from four decades of war and unrest.
According to the International Labor Organization (ILO), Iraq's public sector employs nearly 38% of employed individuals, making it one of the world's highest rates.
After securing a private bank loan, Adel launched her "Alaa Adel" brand in the summer of 2017.
She stated that at first, she was confronted with sexism from fabric suppliers who were reluctant to do business with a woman.
In a nation where custom dictates that children should be cared for at home by their mothers until they enter school, there were no public childcare facilities available at the time.
Adel received assistance from family members who look after her two boys, who are now nine and four years old, while Adel is at work.
According to a report released in July of last year, ILO country coordinator Maha Kattaa, Iraq has 13 million working-age women, but only about one million are employed.
According to the ILO report, female labor force participation was "particularly low" at 10.6%, compared to 68% for men.
In contrast, Saudi Arabia's neighbor had a female workforce participation rate of 35.6 percent in the second quarter of 2022, making it one of the world's most restrictive countries for women until recently.
The majority of Iraq's employed women are nurses or teachers. Only a small number are armed forces or police officers.
Men "dominate many sectors whereas women are relegated to the margins," according to Shumoos Ghanem.
The 34-year-old is the owner of a company that makes dietary foods and the founder of the Iraqi Women in Business initiative, which gives women online professional guidance. She is also a mother to a son who is 14 months old.
Ghanem says that most of the people she helps are mothers who haven't worked in a while and "wonder if society will accept them" as working women again.
She stated that Iraqi women have had increased opportunities over the past five or six years, but the space for them to "develop is very limited still."
She added, "Some regions are more traditional than others," which further limits women's opportunities for "careers or to open projects."
Ghanem claimed that she had experienced sexism and harassment and was surrounded by men.
She recalled, "When I went to see suppliers for the first time, I really saw how complicated it was."
She works from home now, but she also has a dream of opening her own health-conscious restaurant where she can help more Iraqi businesswomen become female.
She stated that she wanted to "make it a place to support women who want to work in this sector."