Case for slander: Fawad Chaudhry, leader of the PTI, was released from jail after receiving bail.
Hours after he was given bail in a sedition case for threatening officials of the Election Commission of Pakistan and their family, Pakistan Tehreek-e-Insaf (PTI) leader Fawad Chaudhry was released from jail on Wednesday evening.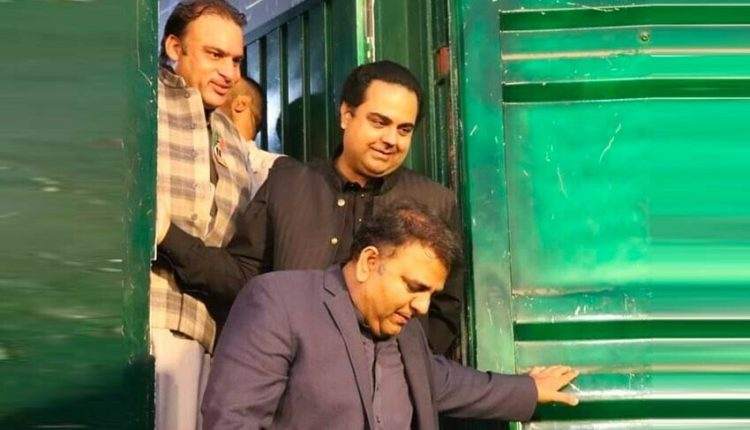 He was granted permission to leave the Adiala Jail in Rawalpindi, Pakistan, where he was held on judicial remand.
A district and sessions court in Islamabad had granted Fawad bail earlier on Wednesday.
Fawad was required to submit Rs20,000 surety bonds before the bail was approved.
After threatening members of the Election Commission of Pakistan (ECP), he is facing charges of sedition.
Fawad was granted bail by Judge Faizan Gillani on the condition that he refrain from using abusive language toward ECP members.
The prosecutor's and ECP's legal arguments for rejecting the PTI leader's bail plea were rejected by the court.
Judge made the observation that the lawmakers should avoid making provocative statements.
Fawad's wife Hiba Chaudhry thanked the PTI and its supporters for supporting her during difficult times while speaking with reporters outside the court.
The case On the request of the ECP secretary, a case had been filed against Fawad Chaudhry at the Kohsar police station in Islamabad; who is to blame for the PTI leader's criticism of the commission and chief election commissioner?
For threatening CEC, Lahore police arrested Fawad Chaudhry in the early hours of January 25.
His speech was the subject of the first information report (FIR) that was filed against him. In it, he is alleged to have stated that the ECP has the same status as a "secretary" and that the "chief election commissioner signs documents like a clerk."
The former minister was detained shortly after holding a press conference in Lahore, where he threatened the ECP members and their families with repercussions if "those involved in the May 25 incident" were appointed (in the Punjab caretaker setup) or retained in their positions.
Additionally, he voiced his strong disapproval of Mohsin Naqvi's appointment as Punjab's interim chief minister, declaring that "those who are being appointed as the caretaker of [Punjab] government will be followed until they are punished."
Additionally, he is said to have made a formal complaint to the ECP regarding the appointment of individuals who were directly involved in the Punjab crackdown.
Sections 153-A (promotion of hostility between groups), 506 (criminal intimidation), 505 (statement favoring public mischief), and 124-A (sedition) of the Pakistan Penal Code (PPC) are cited in the complaint.