District court sends Fawad Chaudhry to jail for 14 days, again
A district court in Islamabad on Monday sent Pakistan Tehreek-e-Insaf (PTI) leader Fawad Chaudhry to jail on judicial remand at the end of his physical custody with police.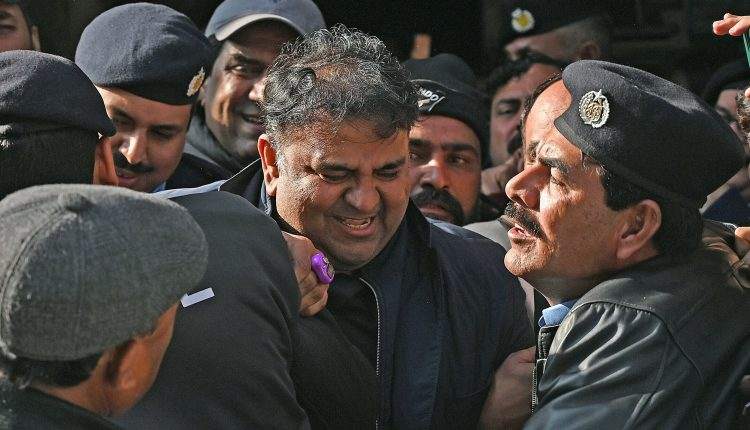 Fawad, who was scheduled to appear in court on Monday morning, was unable to do so because the police were unable to locate him in time due to the closure of roads.
The police had asked the court for more time to present Fawad because roads were closed as part of security measures for the upcoming visit of United Arab Emirates (UAE) President Mohammad Bin Zayed Al Nahyan, which was canceled at the last minute due to rain in Bahawalpur.
The police were then instructed by the court to present Fawad at 3 p.m.
After bringing Fawad to Islamabad from Lahore on Monday, he was then brought before the court at the specified time.
Fawad read his statement aloud during the hearing, remaining steadfast on it.
He was then placed on judicial remand by the court.
Babar Awan, Fawad's attorney, stated that he had no idea what laptop the prosecution wanted to recover or who it was they were attempting to please by treating Fawad this way.
Later, as he was being led out of the court amid PTI supporters' chants, he told the media that his "dark night will soon end."
The court noted in its written order on Monday that the investigation officer (IO) had not shown any progress with regard to the recovery of the mobile phone and laptops despite his four-day physical remand, and that he had provided no justification for requesting an additional four-day physical remand.
He stated, "Section 167 Criminal Procedure Code (CrPC) regulates the custody of accused with the police, and as per law, the court cannot grant the same mechanically when no plausible reason has been extended by the IO for further remand."
"On judicial remand of 14 days for the completion of the investigation, the accused is sent to judicial lockup."
On February 13, 2023, the accused must appear before the court.
The investigation officer must prepare and submit the report within the allotted time.