Earthquake in Turkey, Syria leaves thousands dead: Toll continues to rise
A powerful 7.8-magnitude earthquake hit Turkey and Syria in the wee hours of Monday, killing thousands, leveling buildings while people were still in their sleep, and sending tremors that were felt as far away as the island of Cyprus.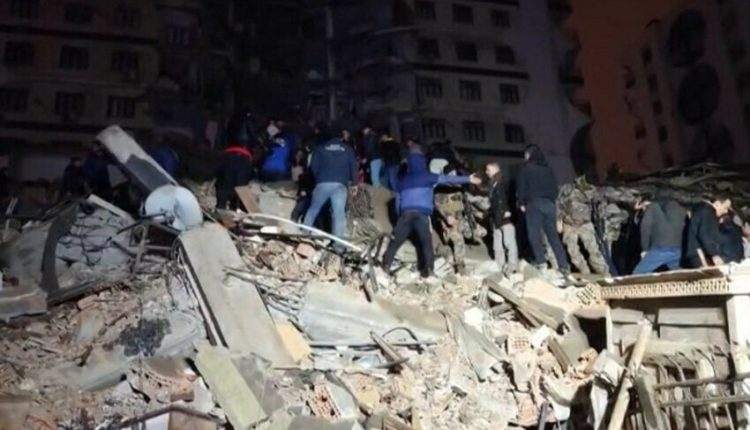 The US Geological Survey reported that a 7.5-magnitude earthquake struck southeast Turkey on Monday afternoon, hours after an earlier quake that killed more than 3,700 people in the region.
At 1:24 pm (1024 GMT), the shallow earthquake struck four kilometers (2.5 miles) southeast of the town of Ekinozu.
Authorities and medical sources reported that more than 3,800 people were killed and thousands more were injured, and efforts to rescue those trapped beneath the rubble are continuing.
State media and medical sources reported that at least 810 people have died in areas of Syria controlled by the government and rebels.
The emergency services said that 1,498 more people died in Turkey.
A winter blizzard that covered major roads in ice and snow was hindering the rescue. According to officials in Turkey, the earthquake rendered three major airports in the region inoperable, making it even more difficult to deliver critical aid.
In Turkey, images from television showed shocked people standing in their pajamas in the snow as rescuers dug through the damaged homes' rubble.
According to the US agency, the quake occurred at approximately 17.9 kilometers (11 miles) deep at 04:17 am local time (0117 GMT), followed by a 6.7-magnitude aftershock 15 minutes later.
The magnitude of the initial quake, according to Turkey's AFAD emergencies service center, was 7.4.
It was one of the strongest earthquakes to strike the region in at least a century.
Turkish President Recep Tayyip Erdogan tweeted, "I convey my best wishes to all our citizens who were affected by the earthquake."
"We hope that we will get through this disaster together as quickly and as damage-free as possible."
The earthquake destroyed dozens of buildings in the major cities of southern Turkey and Syria, a neighboring nation ravaged by violence that has killed hundreds of thousands and displaced millions of people for more than a decade.
Rescuers were seen digging through the rubble of leveled buildings in the city of Kahramanmaras and its neighbor, Gaziantep, according to images that appeared on Turkish television and social media.
In one image from Kahramanmaras, a fire illuminated the night sky, but its origins remained a mystery.
According to NTV television, buildings also fell in Adiyaman, Malatya, and Diyarbakir.
The quake was also felt in parts of central Turkey and the capital, Ankara, according to CNN Turk television.
The heaviest earthquake was felt in Cyprus, Lebanon, and Syria, according to AFP correspondents.
On the west coast of Syria, a building near Latakia had collapsed, according to Syrian state television.
According to pro-government media, several buildings had partially collapsed in Hama, Syria's central city, and firefighters and civil defense were working to rescue survivors.
According to pro-government radio, Syria's National Earthquake Centre's Raed Ahmed, this was the "historically, the biggest earthquake recorded in the history of the center."
One of the most active earthquake zones in the world is in Turkey.
The worst earthquake to hit Turkey in decades was a 7.4-magnitude one in 1999 in the Turkish region of Duzce.
Over 17,000 people were killed in that earthquake, including roughly 1,000 in Istanbul.
Istanbul has allowed widespread building without safety precautions, despite warnings from experts for a long time that a large earthquake could destroy the city.
More than 40 people were killed in Elazig in January 2020 when a magnitude-6.8 earthquake struck.
Additionally, in October of that year, an earthquake with a magnitude of 7.0 struck the Aegean Sea, killing 114 people and injuring over 1,000.