Fact finding committee formed to probe murder of Abdul Latif Afridi
Peshawar Police has formed a fact finding committee to probe the murder of former Supreme Court Bar Association (SCBA) president Abdul Latif Afridi in the bar room at the Peshawar High Court (PHC) on Monday.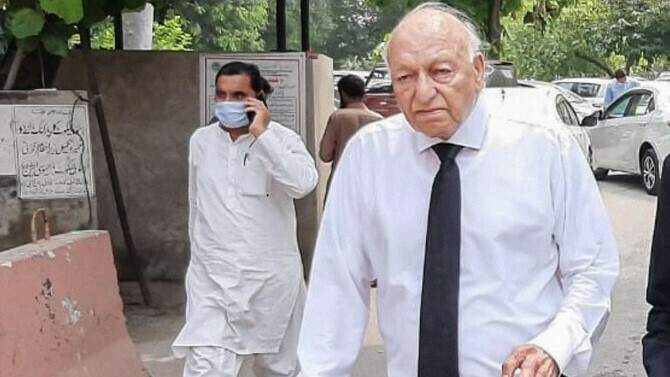 Peshawar Capital City Police Officer (CCPO) Muhammad Ijaz Khan issued the notice to form the committee.
On Monday afternoon, panic ensued at the Peshawar High Court (PHC) when a man shot and killed senior advocate Abdul Latif Afridi in the bar room of Peshawar High Court (PHC). The suspect was immediately apprehended by the police.
"SSP/investigation Peshawar shall conduct a fact finding inquiry into the incident," the notice read, adding that the committee will probe all aspects of the incident and establish facts including how the incident took place inside such a secure location and how a firearm came into the possession of the suspect inside the court premises.
The inquiry committee will also look into any security lapses which may have taken place. The security mechanism in place at PHC and Sessions Court Peshawar will also be reviewed.
The committee has been tasked with recommending measures to enhance security at these two locations.
The committee has been directed to complete its report and submit it within a day.
FIR of Afridi's murder
Peshawar Police lodged FIR on the complaint of Sangeen Khan.
The suspect, identified as Adnan Samiullah, has been charged with premeditated murder under Section 302 of the Pakistan Penal Code against the accused Adnan Samiullah.
Section 302: Punishment of qatl-i-amd:
Whoever commits qatl-e-amd shall, subject to the provisions of this Chapter be:
(a) punished with death as qisas;
(b) punished with death or imprisonment for life as ta'zir having regard to the facts and circumstances of the case, if the proof in either of the forms specified in Section 304 is not available; or
(c) punished with imprisonment of either description for a term which may extend to 25 years, where according to the injunctions of Islam the punishment of qisas is not applicable.
The applicant of the FIR, Sangeen Khan, said that he along with other lawyers were present in the room when the accused, Adnan, came and shot dead Abdul Latif Afridi in the bar room.
Sangeen Khan said that police personnel present in the bar room then sprung into action and arrested the accused.
He said many people witnessed the murder.
CCTV footage of murder
In the CCTV footage it could be seen that people rushed to save their lives right after the firing incident occurred in the Peshawar High Court Bar Room.