Fawad is given police custody by judicial magistrate for two more days.
A judicial magistrate in Islamabad's district court on Saturday granted police another two days of physical remand for Pakistan Tehreek-e-Insaf (PTI) leader Fawad Chaudhry.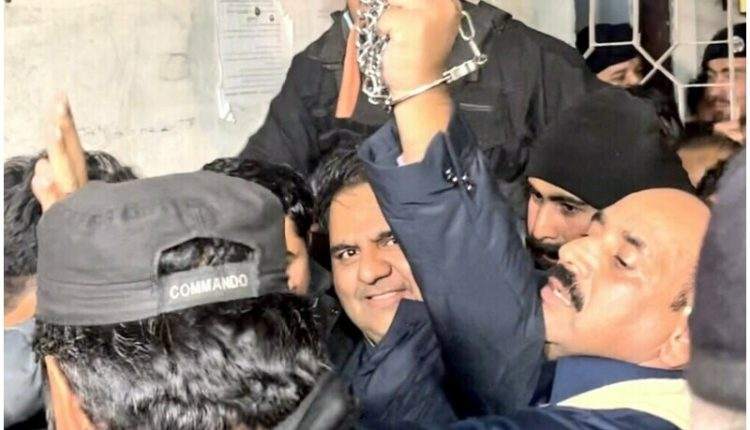 Police were instructed by Judicial Magistrate Waqas Raja to bring Fawad back before the court on Monday.
The decision was made after a district and session court in Islamabad approved the police's request for Fawad to be placed in physical custody on Saturday.
In response to a police petition for additional physical remand, Session Judge Tahir Mahmood announced the reserved verdict.
On an FIR pertaining to inciting violence against the Election Commission of Pakistan (ECP) and spreading hatred, the police had urged the sessions judge to reject Judicial Magistrate Waqas Raja's decision.
The petition pleaded with the sessions judge to overturn the judicial magistrate's decision to imprison Fawad on judicial remand.
The court ordered Fawad Chaudhry to be brought back before the judicial magistrate to reconsider its decision after hearing all of the arguments.
Fawad was then brought before Magistrate Raja, who listened to the arguments and made his decision after two hours.
It is alleged that Fawad made a public "threat" to the ECP members and their families.
What has transpired thus far? After serving his two-day physical remand, Fawad Chaudhry was brought before a judicial magistrate in the district and sessions court on Friday.
The prosecutor stated that additional investigations were required and requested an extension to the physical remand.
Fawad was sent to the Adiala Jail in Rawalpindi after the court granted him a 14-day judicial remand and rejected the police's plea.
The PTI leader's two-day physical remand was approved by the court on Wednesday, rejecting the Islamabad police's request for an eight-day remand.
The former federal information minister was relocated to Sector H-11's Counter-Terrorism Department (CTD) complex following the order.
Fawad was also taken by the police to the Pakistan Institute of Medical Sciences (PIMS) for a medical examination, and they found that he was healthy.
In a media interview the day before, the PTI leader publicly "threatened" the members of the ECP and their families. On Wednesday morning, he was taken into custody from his residence in Lahore.
Fawad called the case "fraud and the FIR is a shame" and demanded the dismissal of all charges.
His attorneys argued that the charges were politically motivated and that the PTI leader's case should have been filed in Lahore rather than Islamabad because he made the statements there.