'I will erase the red line put against my name': Imran
Former prime minister and Pakistan Tehreek-e-Insaf (PTI) leader Imran Khan on Wednesday balked against what he claimed was a 'minus one' formula being used against him, as he pointed to the alleged folly of the plan against a person who enjoys the vast support of the public.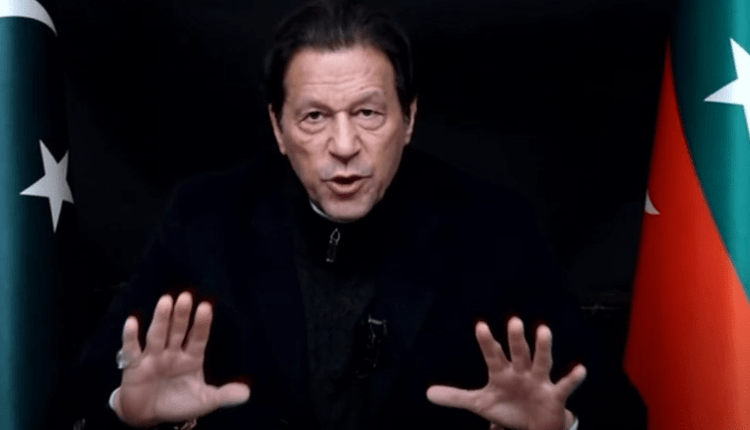 "Watch how I erase this red line put against my name," he said, balking at the usage of the formula which has been used in the past against other political leaders.
He said this in a streamed address from his Zaman Park mansion in Lahore to his party's parliamentary party.
During his speech, he commended their ally Pakistan Muslim League-Quaid (PML-Q), particularly Punjab Chief Minister Parvez Elahi for standing fast against the opposition.
He stated that several of their lawmakers have been approached, some with threats and others with offers of cash to stop supporting him.
"They are going around telling people that a red line has been put against my name, that I am finished (in politics)," he said.
He claimed that Hamza Shahbaz was installed as the chief minister of the province with support from the establishment and the Election Commission of Pakistan (ECP) even though his party had swept the by elections.
Who ever thought they would bring them and be able to solve the economic crises of the country, did they not know that they only have a history of bankrupting the economy and siphoning funds for themselves through graft.
They left us a bankrupt economy and then there was the two years of pandemic and then America left.
When it was our turn [to govern], we were in a difficult place whilst trying to bring an independent foreign policy, which many 'slaves' did not like. Despite that we had record growth in our last two years from agricultural growth, reserves and foreign remittances.
Why was there a need to send such a large delegation physically to Geneva to beg for money.
I have addressed the UN general assembly via zoom, what kind of a meeting cannot be achieved on zoom, he asked?
Pakistan Tehreek-e-Insaf (PTI) Chairman and former prime minister Imran Khan claimed that Rs100 billion was offered to buy five lawmakers of the PTI ahead of trust vote in the Punjab Assembly.
Imran credited his party to convince public for showing up in the 65 marathon public gathering.
PTI Chairman said that PTI won the all bye-elections held in last year despite the fact that PTI had decided not to go back in the parliament.
He also tasked his party workers to prepare for the upcoming elections.
Quoting the economic survey of Pakistan, Imran claimed that despite COVID-19 and bankruptcy like situation, his government had excellent economic performance.
He claimed that from agricultural growth to any economic factor
Imran said PTI government perused the independent foreign policy.
Geneva conference should have been held on Zoom
Imran Khan criticized Pakistan Resilient Climate held in Geneva and said the conference should have been held on the Zoom and there was no need to take such a big delegation.
Quoting the Article 14 'Right to dignity' of the Constitution, Imran Khan urged the judiciary to look into alleged abuse by Police on May 25 long march. He said he called off the long march only after he determined that violence would prevail.