In less than a week, Thai police seize 1.1 tonnes of crystal meth.
According to officers on Tuesday, Thai police seized 1.1 tonnes of crystal methamphetamine in less than a week as the kingdom clamps down on smuggling, which has increased since the country's borders were reopened.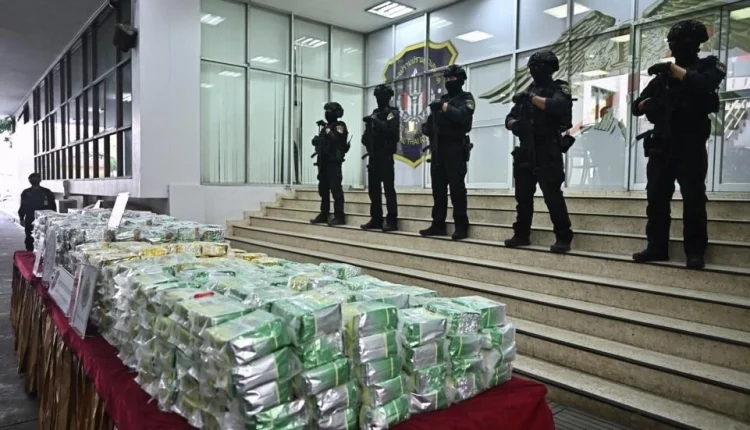 The haul comes after a rise in confrontations between police and smugglers in the remote northern hinterlands of the kingdom, which have long served as a hub for the trade in illegal drugs.
Ten Thai nationals were detained by police in a series of raids in the north and south of the kingdom following a tip.
According to Deputy National Police Chief Police General Chinnapat Sarasin, "some of these drugs were kept for a period of time before being transported to the southernmost provinces, and they were supposed to be shipped to other countries later."
He stated that the Covid pandemic had prevented smugglers from transporting their goods, despite the fact that Thailand was "surrounded by drugs manufacturing hotspots."
He stated, "The pent-up products are just being shipped in nonstop now that the country has been reopened."
In a statement, the police said that the illegal trade was being carried out by a transnational drugs gang.
In the first operation, officers conducted two raids in the southern Thai provinces of Phatthalung and Surat Thani and discovered 731 kilograms (1,600 pounds) of crystal meth, also known as "ice."
Police found 688 kilograms of crystal meth in three pick-up trucks on Thursday after receiving a tip. They believe the drug was smuggled into the northeast of Thailand before being transported south.
After discovering 43 kilograms of the drug, which was being sold through the popular Thai messaging app LINE, police later made four additional arrests.
Another man was detained on Sunday in the northern province of Chiang Rai as he prepared to transport approximately 300 kilograms of ice concealed in tea bags south to Satun.
After the drugs were discovered concealed within coffee bag packages, approximately 114 kilograms were subsequently seized in the central provinces of Nakhon Sawan and Patum Thani. Arrested were two men.
A report from the United Nations says that authorities seized a record billion methamphetamine pills in Southeast Asia in 2021.