In their Saudi-Messi reunion, Ronaldo punches, but scores twice.
In a lively reunion with Lionel Messi, Cristiano Ronaldo scored twice against Paris Saint-Germain on Thursday after recovering from a punch to the face. This demonstrated the financial power of the resource-rich Gulf.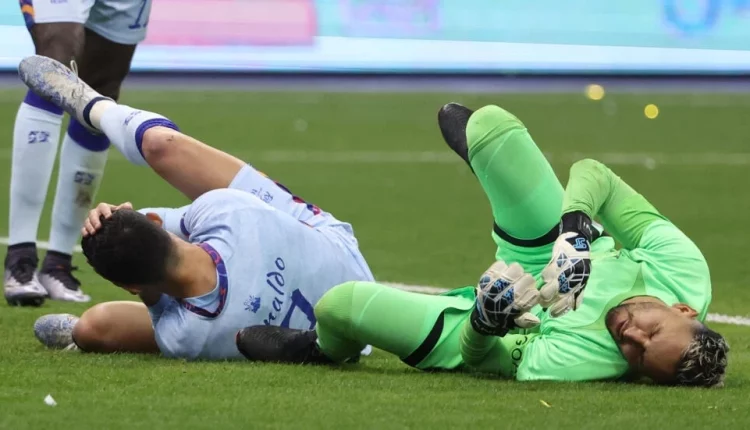 Ronaldo, 37, made his first appearance since moving to Saudi Arabia in a deal that is said to be worth more than 400 million euros. He was decked by PSG goalkeeper Keylor Navas's flailing fist, but he scored a penalty and added another in the 5-4 exhibition loss.
Neymar missed a penalty and Messi and Kylian Mbappe both scored for PSG, which is owned by Qatar, before Neymar and Ronaldo withdrew on the hour, leaving the four highest-paid players in the world watching from the bench in Riyadh. Ronaldo was playing for a composite Saudi team.
The exhibition match in the capital of Saudi Arabia featured footballers worth hundreds of millions of euros. It took place just a few weeks after neighboring Qatar lavishly sponsored the first World Cup held on Arab soil, which was won by Argentina under Messi.
A Saudi real estate tycoon was among the throng at the 69,000-seat King Fahd Stadium. At auction, he paid $2.6 million for a ticket that gave him access to the players' dressing rooms.
Messi scored after just three minutes when he was fed by the explosive Mbappe after Ronaldo led out the Riyadh Season Team, which was made up of players from his new club Al Nassr and Saudi rivals Al Hilal.
Flush on the cheekbone Ronaldo's first touch in Saudi football was a throw-in, but Navas caught him flush on the cheekbone as they tried to get a high ball. He also had a shot saved and a penalty appeal denied.
Ronaldo scored in the 34th minute, grimacing and still rubbing the red mark on his face, beating Navas.
PSG's Juan Bernat received a straight red card five minutes later for a foul on Salem Al-Dawsari, Saudi Arabia's match-winner in their famous World Cup group stage victory over Argentina.
Ronaldo, Messi's sparring partner during their time playing for Barcelona and Real Madrid, received a reproachful look from Messi, perhaps annoyed by the intensity of the mid-season friendly.
Marquinhos' delicate finish gave PSG a quick lead back, and Neymar missed a penalty kick after shooting timidly after his usual stuttering start.
After a few minutes, Ronaldo scored his second goal in injury time of the first half, heading against the post and then burying the rebound to make the score 2-2 at halftime.
Before Hyun-soo Jang scored the third equalizer for the hosts, Mbappe put PSG back in front shortly after the break by turning his opponent inside-out and setting up an easy finish for Sergio Ramos.
However, Mbappe converted a penalty and Hugo Ekitike scored to make it 5-3, and Brazilian striker Talisca scored the final goal for the Riyadh team.
Ronaldo will make his Saudi Pro League debut for Al Nassr on Sunday after signing for more than 200 million euros, according to a club source. It was his first game in the oil-rich kingdom of Saudi.