India rocks to Asia's first Lollapalooza festival
One of the world's longest-running festivals kicked off in Mumbai Saturday for the Indian financial hub's biggest music extravaganza since the end of the pandemic.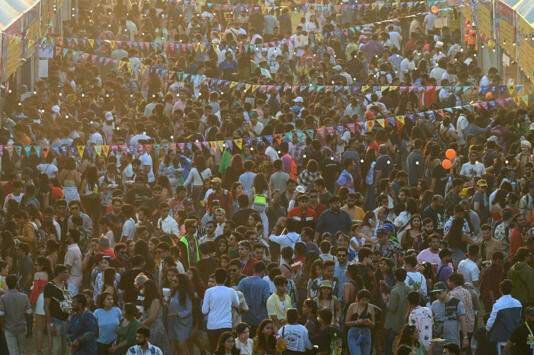 After departing from its American roots over the course of the previous ten years, Lollapalooza's arrival in Mumbai marks the first time the festival has been held in Asia.
The Mahalaxmi racecourse was crowded near the city center, which was becoming an increasingly popular tour stop for prominent international artists prior to the Covid-19 pandemic's disruption.
Narayani Anand, 29, told AFP, "I couldn't miss it. It's the first major American festival to come to India. I think it's huge."
She stated, "The live music scene is really bouncing back." It's almost like a sign that the dark days are over."
Despite months of anticipation, when the festival's Mumbai debut was announced last year, not everyone was impressed by this year's lineup.
The first concert features Diplo, The Strokes, and Imagine Dragons. Binjal Shah, 30, was one of those who decided not to go.
Given the lineup, the prices for the tickets were exorbitant. She stated to AFP, "I couldn't justify spending that much."
Before the lineup was announced, there was a ton of hype. However, the lineup was truly sad. My friends who purchased tickets early were extremely dissatisfied.
According to the festival's organizers, 60,000 people are anticipated to attend over two days.
Perry Farrell, frontman of Jane's Addiction, launched Lollapalooza in the early 1990s, during the US alternative music boom.
It started out as a festival that would go on the road and look at non-mainstream music and culture.
After criticism that the festival was becoming increasingly commodified, Lollapalooza ceased operations. However, in 2005, the event reemerged as an annual event, with Chicago serving as the regular venue.
Since then, the festival has been held in Argentina, Brazil, and Chile, as well as in Europe, beginning with a 2015 edition in Berlin.