India's fervent Hindu nationalists regard Gandhi's assassin as a hero.
Ashok Sharma, a Hindu fundamentalist, has dedicated his life to defending the actions of an Indian "patriot": not the hero of independence Mahatma Gandhi, but the person who killed him.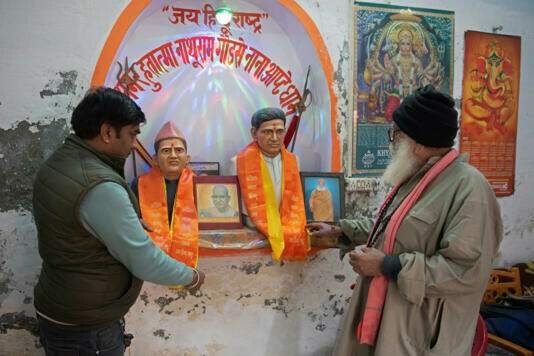 Sharma is in charge of a temple that is dedicated to Nathuram Godse. On January 30, 1948, 75 years ago, Godse shot and killed a person who was known all over the world as an apostle of non-violent struggle.
In India's long struggle to free itself from British colonial rule, the young religious zealot, who was hanged the following year, was widely regarded as the archvillain for generations.
However, Sharma is no longer a "lone warrior" who worships the assassin since the election of Prime Minister Narendra Modi nearly a decade ago. This alternate history is forged in Hindu nationalist ideology.
At his shrine in the bustling city of Meerut, a few hours' drive from New Delhi, he told AFP, "I was ostracized by everyone, including my family and friends… but today I command respect for being Godse's disciple."
"People have realized that Godse was the true patriot and Gandhi was a traitor, and there is a wind of change in the country."
After several unsuccessful attempts under previous governments that saw him briefly imprisoned and his property seized, Sharma established his unremarkable temple complex in 2015, a year after Modi took office.
In the press, it was met with outrage and hand-wringing at its inauguration, which was rekindled in 2019 when it staged a fake blood-spitting effigy reenactment to mark Gandhi's death anniversary.
Numerous people now flock to the humble shrine, which houses small ceramic busts of Godse and his main accomplice, Narayan Apte, to pay their respects and some out of curiosity.
Gandhi is accused of betraying the nation by failing to prevent the former British colony from being divided into India and Pakistan, according to Sharma and his followers. PHOTO: AFP Sharma and his adherents hold daily prayers in front of the Godse idol and chant religious sermons in which they accuse Gandhi of betraying the nation despite his role in organizing the massive protests that led to India's independence.
They believe that Gandhi failed to prevent the British colony from becoming a state governed by ancient Hindu scriptures by preventing it from being divided into India and Pakistan.
Abhishek Agarwal, like Sharma, who is a member of the century-old radical Hindu Mahasabha group, stated, "It is because of Gandhi and his ideology that India was divided and Hindus had to bow before Muslims and outsiders." Agarwal is a member of the group.
Agarwal claimed that secular politicians after India's independence conspired to denigrate Godse in order to suppress Hindu beliefs and impose democracy—a concept that, according to him, is foreign to local historical tradition.
But Gandhi is now exposed, and Godse's word is getting out to everyone. "There will come a time when Gandhi's name will be wiped out from the pious land," he told AFP. "The secular leaders cannot stop this storm.
Treason or patriotism?
Ashok Sharma, a Hindu fundamentalist priest, is standing next to a Hindu Mahasabha sign that praises the assassin of Mahatma Gandhi. PHOTO: Born in a small Indian village in 1910 to a postal worker's son, AFP Godse joined the Rashtriya Swayamsevak Sangh (RSS), a prominent Hindu revivalist organization whose members hold prayer meetings and paramilitary drills.
When he fatally shot Gandhi in New Delhi as the latter emerged from a multifaith prayer meeting, he was 37 years old.
Despite its leaders' assertions that Godse had left the RSS prior to the crime, authorities at the time imposed a brief ban on it. However, shortly before Godse and an accomplice were executed, they reversed course.
As the ideological engine of the ruling Bharatiya Janata Party (BJP), which it founded to promote Hindu causes in politics, the RSS continues to be relevant today.
Prime Minister Modi's first public position was as an RSS cadre, decades before he became India's leader.
"Our hate will devour us": Sharma has spent his entire life advocating for the actions of the Indian "patriot" who killed Mahatma Gandhi. PHOTO: AFP Modi has paid tribute to Gandhi on a regular basis as one of the most revered figures of the 20th century by visiting his spiritual retreat and speaking movingly about Gandhi's ideals and legacy.
To the dismay of Sharma and his adherents, he has remained silent regarding efforts by nationalist activists to rehabilitate Gandhi's legacy.
However, he has never explicitly criticized Godse or his ideology, and his government supports the work of Vinayak Damodar Savarkar, a prominent Hindu ideologue who was Godse's mentor and was tried alongside him but found not guilty of being a co-conspirator in the assassination.
After coming to power in 2014, Modi has proven adept at channeling India's growing tide of Hindu nationalism. He has invoked the illustrious past of India's majority religion and promised to end its "persecution."
Tushar, an author who lives in Mumbai and is Gandhi's great-grandson, has been watching with dismay as he departs from the secular values of his predecessors.
According to Tushar, who spoke with AFP, the veneration of Godse was directly attributable to an ideology that was promoted by Modi's government and put the risk of sowing the "seeds of our destruction."
We've equated it with nationalism for too long by being overly diplomatic and generous. Fanaticism, not nationalism, is what he meant.
"Our animosity will consume us. The venom of hatred must be eradicated somewhere if we are to survive.