KARACHI IN GRIP OF COLD WINDS
KARACHI: Cold weather continues to grip Karachi as the mercury dropped to 11 degree Celsius in Karachi last night, citing the Met Office ARY News reported on Saturday.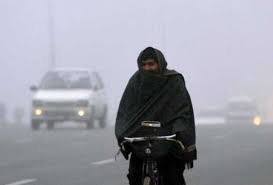 The Pakistan Meteorological Department (PMD) has predicted a fall in temperature in Karachi in the coming days under the influence of the westerly winds which entered the city on Monday.
Northeastern winds are presently blowing in the city at 14 kilometres speed, according to the weather report.
The maximum temperature is expected to reach 24-26 degree Celsius today.
Meanwhile, cold and cloudy weather is expected in most parts of the country during the next 12 hours.
However, light rain with snow is likely in north Balochistan, Khyber Pakhtunkhwa, Gilgit-Baltistan, Pothohar region and Kashmir.
Dense fog is likely to prevail in the upper Sindh and plain areas of Punjab and Khyber Pakhtunkhwa.