'Military's interference in politics is unconstitutional': COAS Bajwa
Outgoing Chief of Army Staff General Qamar Javed Bajwa on Wednesday sought to remind the civilians of all the services and sacrifices rendered by the military, especially those beyond its mandate. But he suggested that the days of crutching on the powerful military may be at an end with the institution resolved to remain 'neutral', deeming that "military's interference in politics is unconstitutional".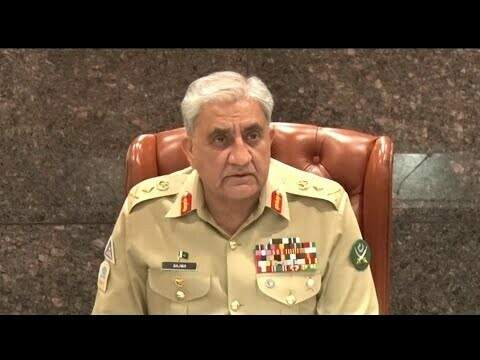 He said this while addressing a Martyrs Day Ceremony at the General Headquarters in Rawalpindi.
The ceremony began after COAS Bajwa, who is only days away from retiring after completing an extended term as the army chief, laid wreaths in an elaborate ceremony at the martyrs monument in GHQ.
During his speech at the ceremony, COAS Bajwa said that while we cannot repay the sacrifices rendered by the martyrs, they will also not allow them to go in vain.
"I pray that in the coming days that the military will continue its streak of success," he said.
"Army's primary job is to protect the geographical borders of the country, but the military has always stepped up beyond its mandate to serve the public," he said.
"Whether it is the issue of the Reko Diq or Karkay fines, losses from FATF or getting Pakistan to the white [and out of grey list], or merger of the tribal areas or fencing the border, arranging cheap gas from Qatar or securing loans from friendly countries, fighting Covid-19 or tackling swarms of locusts, relief and rescue works during the floods, military has always worked beyond its mandate to serve the nation and will always do."
"I assure you, that despite all of these additional tasks, the military will never ignore its primary functions and in tackling terrorism," he said.
"You know that the peace in our cities and villages today is due to the sacrifice of thousands of martyrs," he said referring to the years-long military operations to purge the country of terrorists.
"Nations who forget their martyrs are wiped away," he asserted.
'71 was a political failure'
"I want to talk about a topic on which most people often choose to ignore," he said.
"The topic," he said, "was the performance of the military in former East Pakistan in 1971. It want to set some facts straight."
"It was not a military failure, but a political failure."
The army chief clarified that the fighting force deployed in East Pakistan in 1971 was only 34,000 and not 92,000 as claimed.
"This force of 34,000 was fighting against 250,000 Indian army, 200,000 trained Mukti Bahini," he said.
"Against these heavy odds, our force fought valiantly and presented unmatchable sacrifices, which the Indian Army Chief Field Marshal Sam Manekshaw also acknowledged."
"The sacrifices of those brave soldiers was never acknowledged by the nation, which is a great injustice. Today, I want to take this opportunity to pay tribute to those martyrs and will always pay tribute to them, they are our heroes and the nation should be proud of them."
Undue criticism & military's' political role
The army chief also spoke about the barrage of criticism faced by the military recently.
He stated how he had been wondering for years how the Indian army, which commits the most human rights violations but is seldom singled out by the Indian nation for criticism.
"By contrast, our military remains busy day and night in serving the nation. But for one reason or the other, it keeps facing criticism from the public." he said.
"In my view, this is largely because for 70 years the military has been interfering in the national politics in one shape or form," he stated.
"This is unconstitutional," he asserted.
In this regard, COAS Bajwa said "last year in February, the military decided after prolonged deliberations to not interfere in any political matter."
"I assure you we are firmly resolved on this, and will remain firm on this decision in the future as well."
However, instead of welcoming this constitutional step by the military, several quarters used this to target the military for severe criticism using irresponsible and uncivilized language.
"Army's criticism is the right of the public and political parties, but care should be taken in the choice of words adopted and their use," he said pointedly.
Fake narrative
The army chief stated that a fake narrative was built to create chaos in the country and now it is being used to find a pathway for escape.
"Senior military leadership was name called," he lamented, adding, "I want to make it clear that the military's leadership can do anything, but it can never go against the interests of the state."
"Can you conceive that there is a foreign conspiracy in the country and the military will sit and do nothing?" he said.
"This is a major sin."
The army chief remarked, "Those who think they can cause a split between the public and the military, they will also fail."
The military had plenty of resources and opportunities to respond to this uncalled for assault, but in the larger interest of the state, showed restraint from issuing a negative statement, he explained.
"But everyone must keep this in mind that there are limits."
He added that I want to let bygones be bygones – this inconvenient and aggressive attitude against the military and me – in the greater interests of the state because Pakistan is greater than us all.
"Individuals and parties come and go, but Pakistan has to stay forever."
Catharsis
The army chief stated that the military has started its catharsis.
"I expect that our political parties will review their attitude."
He continued that every institution, political parties and even the civil society has made mistakes.
"We must learn from these mistakes and move on," he suggested.
Economic, political stability & reconciliation
The army chief reminded that while the scourge of terrorism has been dealt with, he could say with conviction that Pakistan is facing severe economic crisis.
"No one party can pull Pakistan out of this quagmire," he said, adding, "Political stability is imperative for improving the economy."
"Time has come that all stakeholders put aside their personal egos and differences, learn from past mistakes and move forwards and drag Pakistan out of this crisis," he suggested.
True democracy
Gen Bajwa said that we must understand the spirit of democracy and end the environment of intolerance and adopt a culture of true democracy.
"In 2018, the crash of the Results Transmission System (RTS) was used as a pretext to reject a party which had genuinely secured the winning number of votes as 'selected'," he lamented.
This brought forth the reaction that in 2022, after a successful vote of no-confidence, the losing party termed the winning party 'imported'.
"We must change this attitude."
Gen Bajwa reminded that winning and losing is a part of politics and every party must develop the courage to accept their victories and their losses.
"Instead of an 'imported', or 'selected' government, an 'elected' government can come in the next elections," he suggested.
"Democracy is another name for courage, tolerance and of respecting the public's choice," he said.
He said that if we have to move forward, we must reject the attitude of intolerance and 'I do not agree'.
"We will together work to develop the nation and play our role in ensuring its prosperity and progress. and we will not desist from any sacrifice to achieve this."
Martyrs Day ceremony
Martyrs Day ceremony is being held at the Army Auditorium in General Headquarters (GHQ) Rawalpindi, which was earlier postponed due to flood situation.
The Defence Day is celebrated on September 6, but due to the devastating floods in Pakistan, the ceremony had been postponed.