NA speaker approves resignations of 35 PTI members
In a surprising move, the National Assembly (NA) Speaker Raja Pervez Ashraf on Tuesday approved the resignations of 35 lawmakers of the opposition Pakistan Tehreek-e-Insaf (PTI).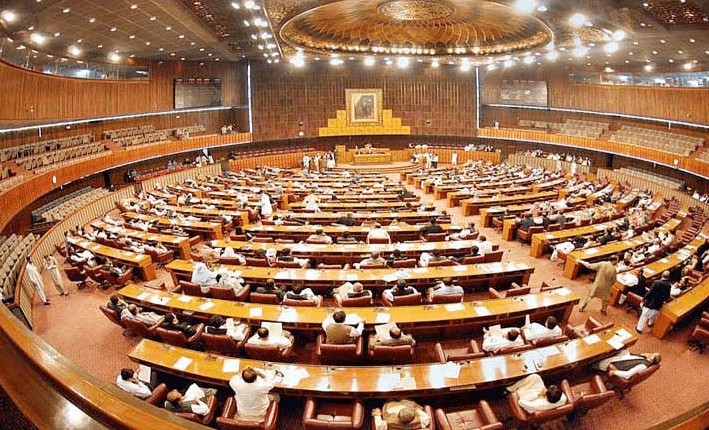 Subsequently, a notification to de-seat the lawmakers who had resigned was also issued by the Election Commission of Pakistan (ECP).
The move comes amid threats from the PTI to return to parliament only to foil a vote of confidence which the party hoped President Dr Arif Alvi would seek from Prime Minister Shehbaz Sharif.
According to the notification, Ashraf accepted the resignations and issued a notification on January 17 to de-notify the lawmakers.
It included senior PTI lawmakers including Shah Mehmood Qureshi, Asad Umar, Shafqat Mahmood , Sheikh Rashid Ahmed and others.
Now, the ECP will initiate a process for holding by-elections on these seats to fill it.
Below is a full list of lawmakers and their constituencies whose resignations were accepted:
| Sr. No | Name | Constituency |
| --- | --- | --- |
| 1 | Murad Saeed | NA-4 Swat-III |
| 2 | Omar Ayub Khan | NA-17 Haripur-I |
| 3 | Asad Qaiser | NA-18 Swabi-I |
| 4 | Pervaiz Khattak | NA-25 Nowshera-I |
| 5 | Imran Khattak | NA-25 Nowshera-II |
| 6 | Sheharyar Afridi | NA-32 Kohat |
| 7 | Ali Amin Gandapur | NA-38 DI Khan-I |
| 8 | Noorul Haq Qadri | NA-43 Khyber IV |
| 9 | Raja Khurram Nawaz | NA-52 ICT-I |
| 10 | Ali Nawaz Awan | NA-53 ICT-II |
| 11 | Asad Umar | NA-54 ICT-III |
| 12 | Sadaqat Ali Khan | NA-57 Rawalpindi-I |
| 13 | Ghulam Sarwar Khan | NA-59 Rawalpindi-III |
| 14 | Shiekh Rashid Shafique | NA-60 Rawalpindi IV |
| 15 | Sheikh Rahid Ahmed | NA-62 Rawalpindi VI |
| 16 | Mansoor Hayat Khan | NA-63 Rawalpindi VII |
| 17 | Fawad Ahmed | NA-67 Jehlum II |
| 18 | Sanaullah Mastikhel | NA-97 Bhakkar-I |
| 19 | Hammad Azhar | NA-126 Lahore-IV |
| 20 | Shafqat Mahmood | NA-130 Lahore-VIII |
| 21 | Malik Amir Dogar | NA-155 Multan-II |
| 22 | Shah Mahmood Qureshi | NA-156 Multan-III |
| 23 | Zartaj Gul | NA-191 DG Khan-III |
| 24 | Faheem Khan | NA-241 Korangi Khi-III |
| 25 | Saifur Rehman | NA-242 Karachi East-I |
| 26 | Alamgir Khan | NA-243 Karachi East-II |
| 27 | Ali Haider Zaidi | NA-244 Karachi East-III |
| 28 | Aftab Hussain Saddique | NA-247 Karachi South-II |
| 29 | Attaullah | NA-250 Karachi West-III |
| 30 | Aftab Jhangir | NA-252 Karachi West-V |
| 31 | Muhammad Aslam Khan | NA-254 Karachi Central-II |
| 32 | Najeeb Haroon | NA-256 Karachi Central-IV |
| 33 | Qasim Khan Suri | NA-265 Quetta-II |
| | Reserve Seats | |
| 34 | Aliya Hamza Malik | Reserved Seats for women |
| 35 | Kanwal Shauzab | Reserved Seats for women |