Pakistan will not default, Dar assures investors while conceding economy in 'tight position'
Ishaq Dar advises PSX investors to not listen to rumours. Calls investors to share that Pakistan will not default. Slams opposition for trying to create panic.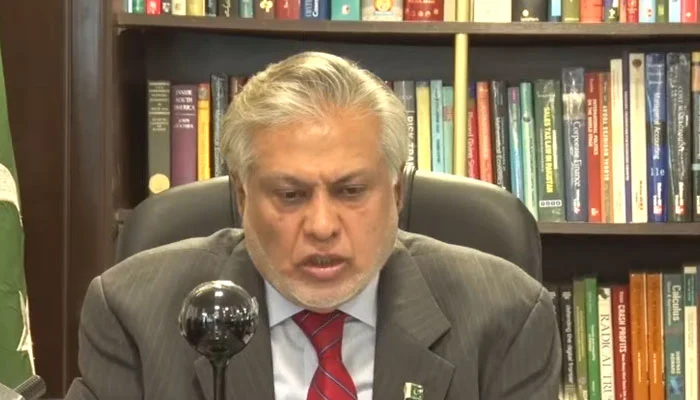 Finance Minister Ishaq Dar on Wednesday assured investors at the Pakistan Stock Exchange (PSX) that the country will not default but did admit that the economy was in a "tight position".
In his address, the finance czar said he always believed that Pakistan has a prosperous future and "resilience" in its economy. However, he lamented that it was unfortunate that the country has been brought to a point where it should not be.
"It's been three months since I took charge and we listen every day that there is going to be a default. How will there be a default? There is no chance that Pakistan will default," the finance minister assured the investors.
Dar assured that Pakistan would survive and is managing itself but conceded that the economy was in a "tight position".
He added that the country does not have the $24 billion reserves that the Pakistan Muslim League-Nawaz (PML-N) left in 2016 but that was not his fault.
"The fault is in the system and we must ensure Pakistan goes forward," said the finance minister.
Dar said that as soon as the country's bond payments came close a "rhetoric" was started that Pakistan will not be able to fulfill its commitment. He added that despite the payment of the bonds the "pseudo-intellectuals" kept claiming.
The rumours were started by the same people who brought Pakistan to this point, he lamented.
"Be conscious, do not listen to them. Disseminate information that Pakistan will not default. I can prove to anyone that Pakistan will not default," the finance minister maintained.
The finance czar said that for "petty politics and objectives" the country was being harmed.
To prove his point, the finance minister said that Pakistan's debt-to-GDP ratio is currently 72% while it was 62% when he left the charge in his last stint.
He also gave examples of other countries to further prove his point by saying that the US's debt-to-GDP ratio is 110%, Japan's is 257% and UK's after COVID is 101%.
"I can give you data of dozens of developed countries who are above 100% but I don't see an alarm there all the time that we are under the debt trap or difficulty. Unfortunately, we are our own worst enemy," said the finance minister.
Dar told the investors that they have a big role to play and urged them to allocate some time to Pakistan apart from their businesses. He added that everyone needs to work together.
Turning his guns towards the government's arch-rival, Pakistan Tehreek-e-Insaf (PTI), Dar lamented that the Securities and Exchange Commission of Pakistan (SECP) was neglected during former prime minister Imran Khan's tenure.
The finance minister added that they focused on the PSX and the SECP when they came to power and made things transparent.
He added that the PTI government had not appointed three directors at the SECP and they filled the positions once they took over. He added that there was a need to focus on the corporate sector.