Peshawar Police Lines mosque suicide blast: Toll jumps to 100, 221 injured
At least 100 people were killed and over 221 – including police personnel – were injured, when a suicide bomber detonated his explosives-laden vest inside a mosque next to the Police Lines in Peshawar on Monday. As a result of the blast, a section of the mosque collapsed, trapping and killing scores more.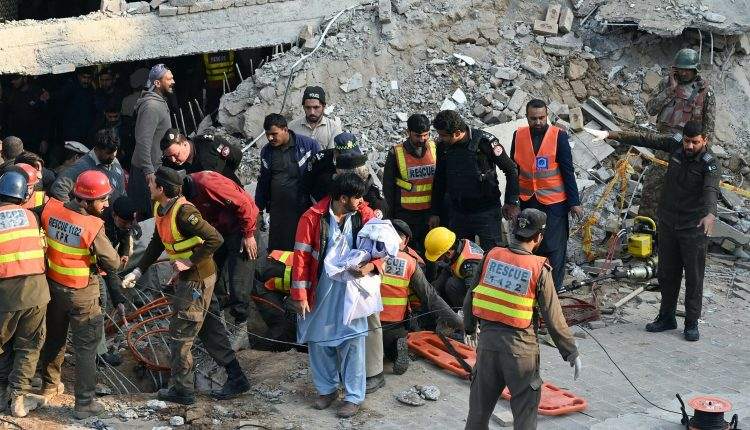 Prime Minister Shehbaz Sharif has received the preliminary investigation report into the suicide attack. According to the report, the suicide bomber's severed head and other evidence of the attack have been discovered at the crime scene.
In the meantime, the Counter Terrorism Department (CTD) has obtained footage from the CCTV cameras in the vicinity.
KP Police Inspector General (IG) Moazzam Jah Ansari told the media about the attack that the attacker brought the explosive material to the Police Lines in small amounts over time because construction was going on at the site.
He added that the attacker later used a suicide jacket to detonate the explosives, which were estimated to weigh between 10 and 12 kilograms.
He stated that the majority of deaths were not caused by the explosion but rather by shockwaves that caused the mosque's roof and a wall to collapse on top of worshippers in the front rows.
As a result, numerous individuals endured prolonged submersion beneath the debris. It took rescue workers more than 24 hours to clear the debris and retrieve the trapped individuals' bodies.
Because they were checking at the gates leading to the Police Lines, the IGP stated that they are investigating claims of security breaches. He did, however, acknowledge that there was a lapse.
During the afternoon prayers that were being held in the mosque, the explosion occurred. At least 200 people were inside the mosque at the time, according to witnesses and officials.
The blast was heard in areas that were relatively far away and was strong enough to break the window panes of nearby buildings. Additionally, it resulted in the collapse of a portion of the mosque's roof and façade.
An AFP reporter observed as dead bodies were transported in ambulances and bloodied survivors emerged from the wreckage.