Pilot killed after two Indian military jets crash near New Delhi
Two Indian Air Force fighter jets crashed Saturday, killing one pilot and injuring two others, in an apparent mid-air collision while on exercises south of the capital New Delhi.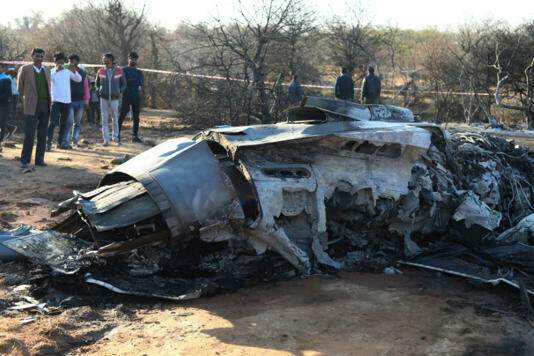 At a time when the government is attempting to modernize its armed forces and address India's complex security challenges, the crash is the latest in a series of accidents involving military aircraft.
Witnesses reported it to the police at approximately 10:00 a.m. (0430 GMT) and involved a Sukhoi Su-30 made in Russia with two pilots and a Mirage 2000 made in France with one pilot.
From the Gwalior air base, approximately 50 kilometers (30 miles) east of where they came down, both aircraft took off.
In a statement, the nation's air force said, "The aircraft were on routine operational flying training mission," adding that one of the three pilots was killed.
It added that an investigation was underway to determine the crash's cause.
Around 300 kilometers south of New Delhi, in the forests of Pahadgarh in central Madhya Pradesh state, the first plane crashed.
Ashutosh Bagri, the superintendent of the Morena district police, stated to AFP, "Two pilots were found near the crash site, and they were later evacuated in an IAF chopper for treatment."
He continued, "Both of them are out of danger."
Images from the state of Rajasthan where the second jet went down showed military personnel inspecting the mechanical wreckage scattered across the ground.
In the past few months, India's military aviation has been the subject of numerous accidents.
In October of last year, their helicopter crashed in the state of Arunachal Pradesh, close to the militarized and disputed border with China. This resulted in the deaths of five army soldiers.
In the same month, a Cheetah helicopter crashed near Tawang, killing its pilot, marking the state's second military helicopter crash.
When a Russian-made Mi-17 helicopter carrying India's defense chief, General Bipin Rawat, crashed in December 2021 while transporting him to an air force base, 13 people were killed.
The urgent task of modernizing India's outdated armed forces is one that the government of Prime Minister Narendra Modi is attempting to address.
The country's military is concerned about China's growing assertiveness along its vast Himalayan frontier, which in 2019 sparked a lingering diplomatic freeze following a deadly high-altitude confrontation between both countries' troops.
Last year, India unveiled its first locally constructed aircraft carrier as part of its government's efforts to establish its own defense industry and reduce its reliance on Russia, India's historically largest arms supplier.
Aiming soldiers retaliated by torching train carriages and engaging in violent protests with police in an effort to reform military recruitment and reduce India's exorbitant defense budget last year.