PPP urges Supreme Court to take notice of Imran's allegations on Zardari
Following allegations from former prime minister and Pakistan Tehreek-e-Insaf (PTI) Chairman Imran Khan on former president and Pakistan Peoples Party (PPP) Co-Chairman Asif Ali Zardari of hatching an assassination plot, the PPP on Saturday strongly refuted the allegations and announced to take legal action.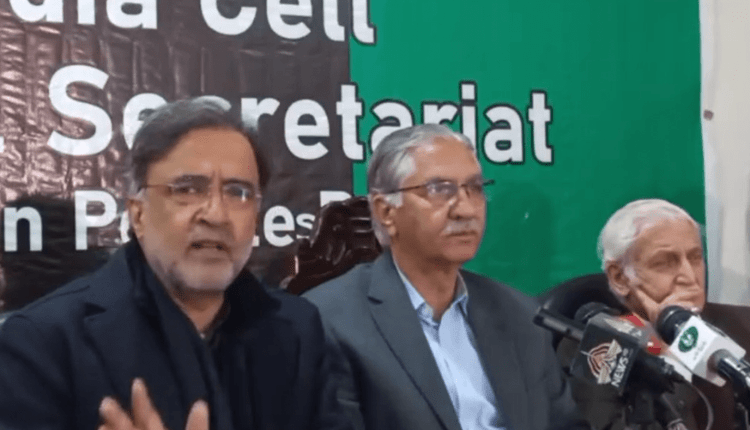 Senior PPP leaders, including Nayyar Bukhari and Farhatullah Babar, Zardari's spokesperson, participated in a joint press conference on Saturday. The party denied what it called "false allegations."
They also stated that they would file a lawsuit against Imran.
According to Babar, Imran appears to have lost his senses as a result of losing power.
He asked, "How is that the fault of Zardari if you have lost your senses for losing power?"
Qamar Zaman Kaira, a senior leader in the PPP and Advisor to the Prime Minister for Kashmir Affairs and Gilgit-Baltistan, questioned whether Imran had lost his mind during the press conference.
He went on to say that Imran makes such bizarre claims to maintain his relevance whenever he gets into political trouble.
However, he stated that the allegations this time were extremely serious and would receive a serious response.
He stated that the PPP's legal team would take action in this regard, beginning with sending a legal notice.
However, he also pleaded with the Supreme Court to investigate the bogus accusations made against a former president.
Action should be taken against those responsible if the allegations are supported by evidence that can be demonstrated. However, he stated that Imran should face legal action if there is no evidence.
Kaira responded to a question regarding the removal of Imran Khan's security by stating that the security was removed from outside of Imran's mansion in Islamabad, where he has not resided for several months.
Babar had previously stated that Imran was a person who encouraged terrorist organizations to establish offices in Pakistan.