President urges ulema to discourage extremism
In the aftermath of the suicide bomb blast in Peshawar earlier in the week, President Dr Arif Alvi on Wednesday urged Ulema and Mashaikh of the country to play their role in bringing positive social change, discouraging extremism, terrorism, and sectarianism.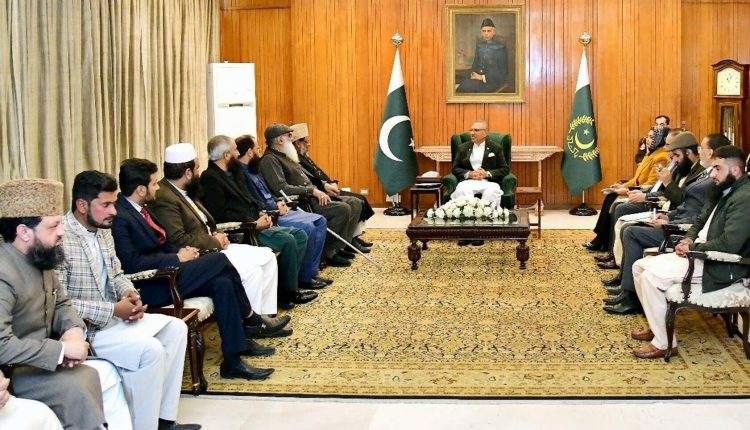 The Ulema Mashaikh Yakjehti Council of Pakistan (UMYC) delegation that visited him on Wednesday at Aiwan-e-Sadr heard him say this. Chairman Qari Hidayat Ullah Mirani of the UMYC was in charge of the delegation.
He stated that a comprehensive action plan and coordinated Ulema efforts in the areas of counter-extremism and counter-terrorism are necessary to address Pakistan's terrorism and militancy challenges.
According to Dr. Alvi, it was crucial to instill ethical and moral values in society by encouraging resource conservation, national solidarity, religious tolerance, and peace and harmony among religions.
The President stated that religious scholars had an obligation to educate the general public, particularly the nation's youth, about the true teachings of Islam in order to implement social reforms and foster virtue, ethics, and morality.
He asserted that through discipline, perseverance, moral righteousness, and the promotion of social justice, Pakistan could advance and assume its proper place in the international community.
The President stated that Ulema should work together to break down social barriers and foster national unity and solidarity.
Tolerance, forgiveness, and peace were the Sunnah of the Holy Prophet Muhammad (PBUH), so they should be taught to young people, he added.
According to the President, Ulema should help promote moderate, responsible, and sustainable consumption of resources, particularly fuel and energy, through the Friday sermons in the mosques, as Islam places an emphasis on resource conservation and waste prevention.