PTI is "knocked out" of the National Assembly as 43 more resignations are accepted by the speaker.
Shadab Khan, an all-rounder for the Pakistan Cricket Team, was praised by his teammates on Tuesday when he shared his "Nikaah" with the daughter of his mentor, Saqlain Mushtaq.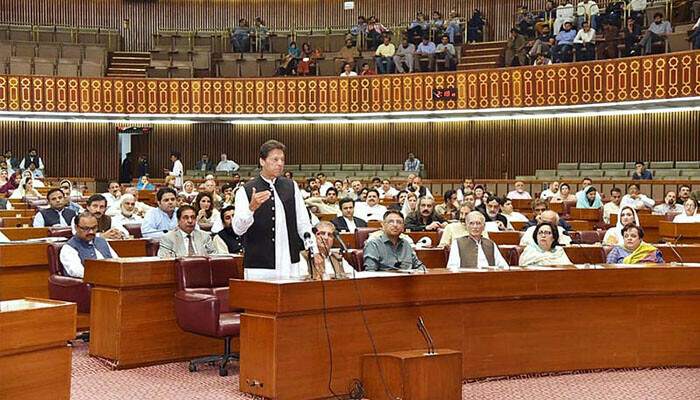 The development comes one day after 45 PTI MNAs requested that their resignations be withheld. Today, 43 members accepted their resignations.
On Tuesday, the NA Secretariat said that the members were called multiple times to verify their resignations.
In order to remove the MNAs, the secretariat has now sent the accepted resignations to the Election Commission of Pakistan (ECP).
None of the resigned PTI MNAs will remain a member of the NA after the members have been de-notified.
In the past, the NA speaker accepted 70 resignations in two phases, and the total now includes 43 more.
Minutes before Shehbaz Sharif's election as prime minister in April of last year, a total of 131 MNAs had resigned.
After that, NA speaker Ashraf only accepted 11 of the resignations and said that the remaining legislators would each be called in for verification.
Ashraf accepted the resignations of 34 PTI lawmakers on January 17 and 35 on January 20, including Awami Muslim League (AML) chief Sheikh Rashid, after stalling the process for eight months.
After the PTI threatened to return to parliament only to thwart a confidence vote that the party hoped President Dr. Arif Alvi would seek from Prime Minister Shehbaz Sharif, the move was made.
Pakistan is getting closer to holding elections now that 40% of NA seats are unfilled: Fawad Chaudhry, the leader of the PTI, stated in a series of tweets that the party had decided to return to the NA in "limited numbers" in order to remove opposition leader Raja Riaz. Or else we wouldn't be able to return to our representative status in this National Assembly; Added he.
The leader of the PTI posted on Twitter that 40% of the seats in the lower house have been lost. Pakistan was getting closer to the elections now.
He stated that the Shehbaz Sharif government was relying on the lotas of PTI because it had lost support from the 172 members it needed to form the government.