Rarely seen Klimt painting returns to Austria after 60 years
A major work from the Austrian painter Gustav Klimt has returned to Vienna where it will be shown in its homeland for the first time in nearly 60 years, after museum officials pieced together its tumultuous history.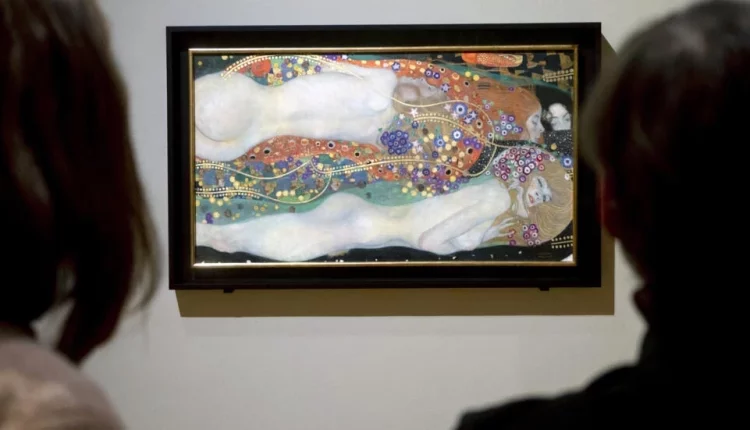 The painting known as "Water Serpents II," which shows nymphs fighting a red serpent, was finished in 1907 during Klimt's so-called "golden period," when he adopted the gold-leaf techniques for which he is now famous.
But unlike a lot of his other works, it hasn't been seen much. It was only shown once in Vienna in 1964 before it became forgotten.
After Germany annexed Austria in 1938 and Jenny Steiner fled the country, the Nazis took the painting from the Steiners, an Austrian family that collected art.
According to Markus Fellinger, curator of the new exhibition at the Belvedere Museum, it was later purchased by Austrian film director Gustav Ucicky, Klimt's "illegitimate son."
According to Fellinger, the painting had largely been hidden from view since the 1964 exhibition by Ucicky's widow, AFP.
But in 2013, the widow surprised the art world by agreeing to sell it to the president of AS Monaco, Russian oligarch Dmitry Rybolovlev, for $112 million.
After that, Rybolovlev sold it to the HomeArt collection, which Rosaline Wong started in Hong Kong.
Working with the Amsterdam Van Gogh Museum, the Belvedere was able to borrow "Water Serpents II" for a show about the artists and works that inspired Klimt.
The Belvedere offered its restoration expertise rather than the six-figure sum required to insure the work in order to include it in the show, which opens on Friday and runs through May 29.