Remiro rocks the boat as Madrid drops points in the title race
Real Sociedad goalkeeper Alex Remiro made a string of fine saves to frustrate Real Madrid in a 0-0 draw Sunday, leaving Barcelona five points clear at the top of La Liga.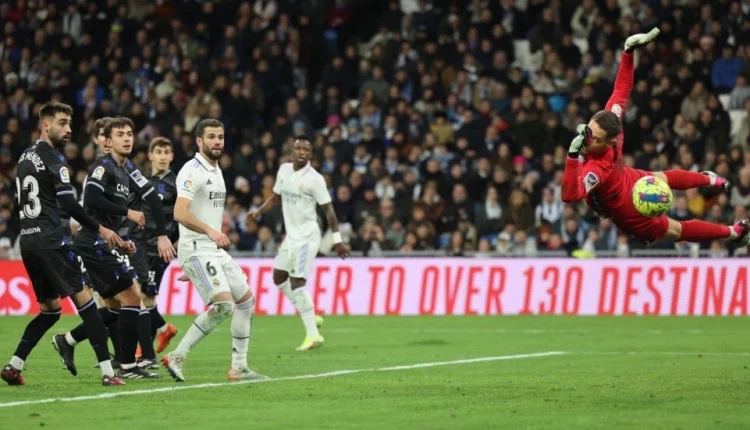 Madrid needed to win to stay three points behind their rivals in the title race after the Catalans beat Girona on Saturday. However, Remiro made sure that didn't happen, keeping third-place La Real behind the champions.
In addition to other Madrid opportunities, Vinicius Junior had three good chances denied by Remiro as Carlo Ancelotti's team shined but failed to score the goal their performance deserved.
The draw continues Real Madrid's mixed start to 2023, which saw them fall further behind Barcelona in the league and lose to them in the Spanish Super Cup final. However, on Thursday, they beat Atletico Madrid in extra time to reach the Copa del Rey semifinals.
Ancelotti told reporters, "It was one of the best games we've played this season."
"It's true that Barca is doing very well, but the season is very long and January is very complicated. However, the team has made a lot of progress in all areas—physically, in the attack, and defense.
"We are confident that we can get started on it in the second half of the season because the players are starting to improve and the injured players (will return)."
Vinicius and Rodrygo, two Brazilian wingers, posed constant threats for Madrid during the first half, which resulted in some impressive moves.
The first one curled inches wide after a spectacular nutmeg on Igor Zubeldia, and the second one backheeled Karim Benzema, but Remiro saved easily.
Due to injuries elsewhere, Ancelotti started Eduardo Camavinga at left back, and the former Rennes midfielder performed admirably.
Before the break, Vinicius should have scored, but his shot was well stopped by Remiro, the visitors' final line of defense.
Early in the second half, Remiro made a smart save with his leg against the Brazilian winger to keep his team level, and Fede Valverde shot wide from a distance as Madrid moved forward.
When Takefusa Kubo broke free on the right, Real Madrid goalkeeper Thibaut Courtois was called into serious action for the first time after an hour, but the Belgian got down well to stop him.
Unbeatable Remiro Vinicius was stopped once more by the great Remiro, who cleverly accelerated into the box and blocked the Brazilian's attempt to lob the ball.
Remiro was given a penalty for wasting time in extra time as he fought for every second of a goal kick to earn Real Sociedad, who were still three points behind Madrid, a hard-fought point.
Atletico Madrid held on to fourth place with a narrow 1-0 victory over Osasuna earlier on thanks to Saul Niguez's cool finish.
Atletico Madrid's main objective for the second half of the season is to qualify for the Champions League, which includes the Copa del Rey and the Champions League. Atletico is 13 points behind La Liga leaders Barcelona.
The Rojiblancos were dissatisfied with the refereeing after their midweek quarterfinal cup elimination, but they had nothing to complain about as they snatched victory at El Sadar.
After 74 minutes of play, midfielder Saul, who came on as a substitute, gave Atletico the lead.
Although the Spaniard is no longer Diego Simeone's most important player, he took advantage of his opportunity to meet Rodrigo De Paul's lobbed pass and score with ease.
Simeone is of the opinion that his team performed admirably after Madrid's Copa del Rey defeat.
The Argentine coach told Movistar, "We have a way of thinking and working, and the club has a way of living that is to never give up and always get up in the face of adverse situations."
"Playing for Atletico Madrid is the single most motivating factor."
Celta Vigo defeated Athletic Bilbao 1-0 with a goal from Iago Aspas, and Real Valladolid beat Valencia 1-0 with a goal from Canadian debutant Cyle Larin in the 90th minute to move one point above the drop zone.