Rybakina, the Wimbledon champion, is already in the Australian Open semifinals.
With a 6-2, 6-4 victory over Jelena Ostapenko of Latvia on Tuesday, Wimbledon champion Elena Rybakina made it straight into her first Australian Open semi-final.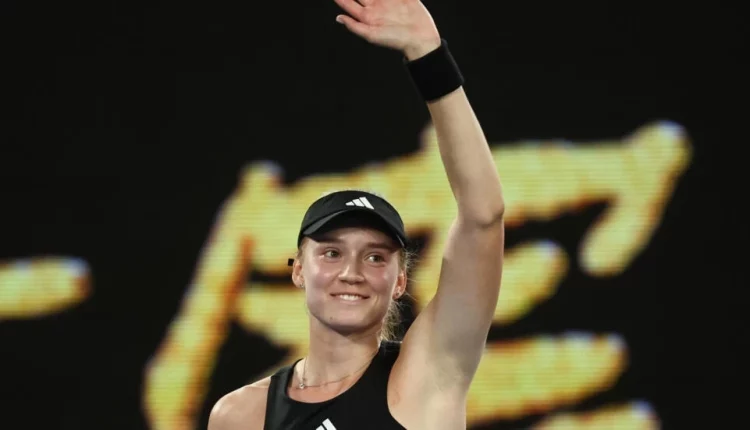 On Rod Laver Arena, the 22nd seed defeated the 17th-seeded former French Open champion in 1 hour and 19 minutes. For a spot in the final, the 22nd seed will play either Victoria Azarenka of Belarus or Jessica Pegula of the United States.
The Kazakh star stated, "I'm super happy to be the first time in the semi-finals." It had an incredible atmosphere.
After defeating top seed Iga Swiatek in straight sets on Sunday, Rybakina said, "she could beat anyone."
With her big serve, she broke Ostapenko right away and hit three aces to make it 3-1. She was also the first to serve.
At 30-40, she set up another break point, but the momentum of the 22nd seed was halted by a sudden cloudburst.
While the roof was closed and the water was cleaned up, the players raced out of Rod Laver Arena.
Ostapenko eliminated the immediate threat after a delay of close to a half an hour.
However, she was powerless to stop Rybakina from gaining a second break two points later thanks to her aggressive play.
Ostapenko upped the power on her groundstrokes at the start of the second set, breaking for 2-0 with a scream. Rybakina's serving got her out of trouble in the next set at 15-40 and finished the first set in 32 minutes.
But Rybakina came back calmly and saved four more break points in the next game to keep the score at 2-2.
In Ostapenko's subsequent service game, Rybakina struck once more to put the match well within reach.
The normally self-assured Kazakh of Russian descent served for the match at 6-5, and her 11th ace sealed her progress.
She stated, "Of course I was nervous, especially in the final game, but not as much as I was before the match." Therefore, I am extremely pleased with my emotional control and performance today.
Ostapenko had won their previous meeting, which took place in Eastbourne in 2021. She was also making her first appearance in the Australian Open quarterfinals.
After admitting that she struggled to cope when she won the French Open at the age of 19, the 25-year-old has been working her way back up the rankings.
She stated that she had "never doubted" she had the ability and drive to win another Slam after she defeated Coco Gauff in the fourth round.
But Rybakina, who won on grass at Wimbledon in July and is aiming for her second Grand Slam title in six months, was unstoppable.