The conflict is not over: Anti-abortion groups in the United States join the fight.
Anti-abortion activists gathered in Washington on Friday in a mood that was more determined than triumphant, despite the fact that it was their first march through the US capital since the Supreme Court granted them what they had been demanding for half a century.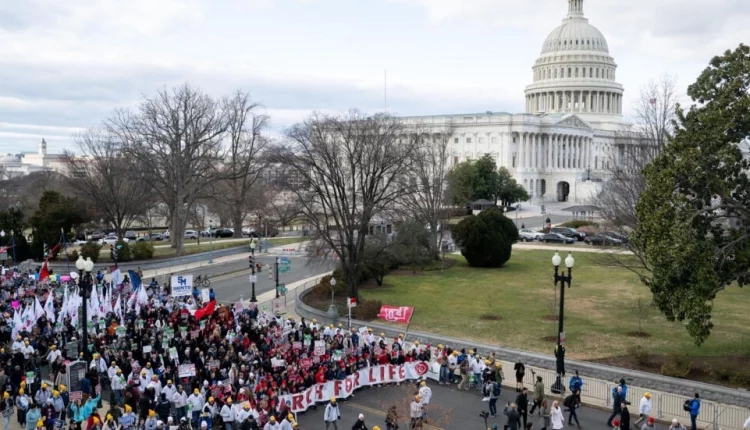 Protesters outside the conservative-led institution allowed themselves a modest victory lap seven months after the nation's highest judicial body gutted federal protections for nationwide abortion access. However, the majority of them were focused on the fights that lay ahead.
George Muench, a Catholic who wore a "March for Life" hat and was 74 years old, stated, "We have a lot of work to do."
The march started in 1974 as a challenge to Roe v. Wade, a landmark Supreme Court decision that guaranteed American women's right to have their pregnancies terminated.
In order to urge the justices inside the courthouse to reverse that decision, activists from across the United States have descended on the capital each January to walk to the iconic front steps.
They got what they wanted on June 24 of this year. The high court, which had veered to the right under hardline Republican former president Donald Trump, gave in, allowing states to enact their own bans on abortion.
More than a dozen states rushed to do that right away.
Barbara Countryman, who hasn't missed a "March for Life" in 20 years, noticed that the atmosphere was a little happier and the crowd was a little younger than in previous years.
She told the AFP that "we are celebrating the end of Roe, but we still have to convert all people's minds." She was surrounded by college students and teenagers, many of whom had been bussed in by their Christian schools, and some of them were holding banners that read: "We are celebrating the end of Roe." I belong to the generation after Roe.
However, the struggle is just beginning for Countryman, 61, who regularly prays in front of Maryland clinics.
"I will remain here each year until my death." She stated gravely, "It won't stop, it will always be a battle."
"Hearts and minds" Richard Guill, a 50-year-old resident of Virginia, adds, "The debate around abortion is back into the hands of the states." There, a dispute over abortion access has turned into a stalemate between the Republican governor and the less conservative legislature.
Kathleen Pilie, 78, of New Orleans, is pleased that no exceptions were made when Louisiana immediately implemented an abortion ban.
She told AFP, "Many states have abortion on demand still… the battle is not over for sure," warning against complacency in the ongoing struggle for "hearts and minds."
Even though the "March for Life" crowd on Friday was determined, they are in the minority in contemporary America.
Abortion rights advocates have won every referendum on reproductive rights held since June, including in conservative states like Kansas and Kentucky.
Muench voiced her displeasure, stating that the Democrats "turned it into a political issue, put a lot of money into the campaign, and promoted the dangers of not having abortion rights."
Rosario Cazares, who traveled to Washington from Texas with her mother Virginia, acknowledges that the anti-abortion position has some unpopular aspects. For instance, some states prohibit abortions even in cases of rape or incest.
However, the debate is not a contest of equals for the 27-year-old public health student; rather, it is an opportunity to work toward a more just society.
She urged additional support for new mothers, saying, "We also have to make sure that we are helping these women."
Cazares stated that one day she would like to open her own "pregnancy center." The fight continues in the interim.
One of the speakers told the crowd gathered outside the Supreme Court, "We will march year after year."
The opposing side has its turn starting on Sunday, the 50th anniversary of the Roe v. Wade decision, when pro-abortion rights demonstrators plan to rally in cities across the country.