There is no reason to delay polls: Alvi, President
On Thursday, President Dr. Arif Alvi said that there was no reason to put off elections. However, he also said that using a "minus" formula to get rid of former Prime Minister and Pakistan Tehreek-e-Insaf (PTI) Chairman Imran Khan from the political chessboard would backfire, which would elicit strong public reaction.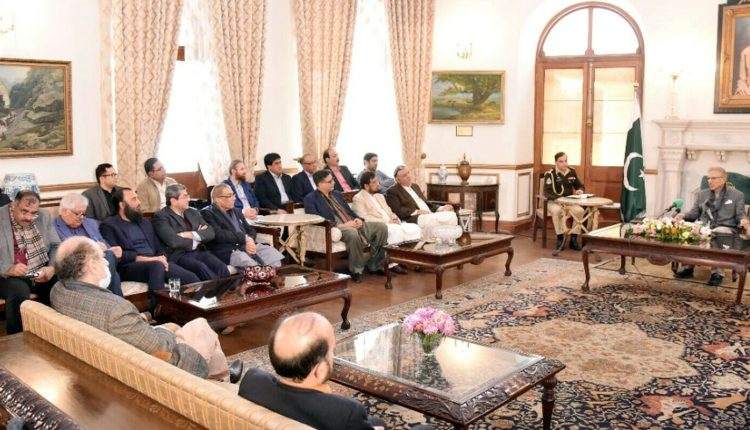 He made this statement on Thursday while addressing the media at the Governor House in Lahore. Alvi has met with Imran multiple times during his two days in the provincial capital.
Alvi referred to the alleged "minus Imran" formula and noted that it had not been successful in the past when used to remove key political figures.
He stated, "Those elements, either discussing it or pursuing it, are not doing any service to the country."
He said, referring to the recent arrest of PTI leader Fawad Chaudhry, that it was unfortunate that politicians were held in handcuffs on suspicion of contempt before being covered up in court.
Alvi deemed it extremely regrettable and pointed out that such treatment is only extended to hard-core terrorists or criminals, not politicians or other citizens.
In response to a different question, he stated that the government should refrain from arresting Imran Kha, a popular leader, because there was no logic or reason to do so and because doing so could plunge the country further into chaos and exacerbate the public's suffering.
He continued by urging all parties involved to refrain from taking any action that has the potential to cause conflict and unrest in the country.
He said incoherently, "It may become difficult to manage this conflict if such strife results in public agitation."
During PTI talks with the government, Alvi also suggested that negotiations could be held by the second- or third-tier leadership if the PTI chairman does not want to negotiate one-on-one.
He stated that the PTI is prepared for elections and economy negotiations with the government.
Additionally, President Arif Alvi suggested that his party negotiate with the government without requiring snap elections.
Postponement of elections Regarding the timing of the general elections and suggestions that they might be delayed, Dr. Alvi stated that there was no reason to postpone them because the Constitution mandated that they take place within a certain time frame.
In addition, he stated that he had complete faith in Pakistan's populace, relevant institutions, and organized political parties to ensure that elections would be held within the Constitution's timeframe.
President Arif Alvi stated that Prime Minister Shehbaz Sharif has the necessary numbers in the house to survive a vote of confidence, particularly since the majority of PTI members of the house accepted their resignations.
Dr. Arif Alvi, in contrast to the rhetoric of PTI leaders, made it clear that the nation would not go into economic default and expressed optimism for the success of negotiations with the International Monetary Fund (IMF).
Dr. Alvi, Pakistan's neutral president and caretaker, stated that the Constitution is supreme, sacred, and cannot be ignored. He went on to say that the Constitution required him to maintain his neutrality at all times and that he would always adhere to the spirit of the Constitution in all matters pertaining to the conduct of official business by disregarding his personal preferences.
The president went on to say that the caretaker government's goal was to maintain neutrality so that elections could be held in a way that was open, fair, and just by giving all political parties equal opportunities to run for office.
He emphasized that this spirit ought to be reflected in the constitution of caretaker governments, but he made a pointed remark about the Election Commission of Pakistan (ECP).
When asked about talks, a dismayed Dr. Alvi said that no one from the government has approached him in the past month and a half to take up his suggestion to hold talks and de-escalate the country's ongoing political tensions.
According to Dr. Alvi's suggestion, "the government may have believed that after reaching an agreement with the IMF and signing an agreement with the IMF, economic conditions would have improved, thus eliminating the need for any dialogue."
The President claimed that during his conversation with the Governor of Punjab, he assured him that the holding of elections in the province would only be done in accordance with the Constitution.
When asked about the role that the establishment plays, he responded, "The establishment has stated that they are neutral, so we should accept it."
He called it an opportunity and urged politicians to take control and use democratic means to solve the country's problems.
Additionally, he characterized the procedure used to appoint the interim Punjab chief minister as constitutional.
According to him, the caretaker chief minister's impartiality or bias cannot be verified in accordance with the Constitution.
He said that PTI did not speak about Fawad Chaudhry's arrest, which surprised me.
Poor polling necessitates technological intervention. President Dr. Alvi emphasized the importance of technology and lamented that several results for the second phase of Sindh's local body elections had been delayed.
In this regard, he emphasized how electronic voting machines not only aid in the conduct of free, fair, and transparent elections but also speed up the compilation of results.
Even though the next economic review of the government by the International Monetary Fund (IMF) will be successful, President Alvi predicted that it will come at the expense of additional stringent economic measures.
In this regard, he stated that he had repeatedly urged political and other relevant stakeholders to lower the political and economic temperature. This would only be possible if all relevant stakeholders and institutions agreed on major issues facing the nation, such as political polarization, the economy, and rising inflation.
The global economic outlook and our own weaknesses, according to the president, had led to a dire economic situation and increased inflation. The IMF would impose stringent conditions on this, putting additional pressure on the people's socioeconomic well-being.
He went on to say that the ninth IMF review meeting will take place sooner rather than later because of new conditions that would necessitate a fully mandated government in order to prepare the populace for the upcoming tightening of financial and economic conditions.
In spite of his concerns, he stated that he was certain that Pakistan would not default on its financial obligations and that the economy would recover strongly.
Dr. Alvi said that in his first meeting with Shehbaz after the latter took office in April, he had urged the premier to take measures in the public interest, such as conserving electricity, gas, and water, to change attitudes.
These initiatives would not necessarily necessitate spending a lot of money; rather, all that would be required is a shift in people's mindsets and their willingness to change their business hours to use as little electricity as possible.
Dr. Alvi of the Green presidency stated that the President House met all of its energy requirements through an 1 megawatt solar power plant installed at the Aiwan-e-Sadr and exported surplus energy to the national grid, making it completely energy-negative and environmentally friendly.
He went on to say that the President House was the world's first environmentally conscious presidency and that it was internationally recognized as such.
Arshad Sharif's assassination remains unsolved President Alvi responded to another question by stating that the assassination of senior journalist and anchorperson Arshad Sharif remains unsolved.
He stated that neither a citizen nor a journalist merits such treatment beyond the constitutional, legal, and legal safeguards provided to them.
He stated that all citizens are entitled to all rights guaranteed by the law and the constitution until they are convicted by a competent court.
Foreign funding In response to a question, President Alvi stated that during his time with the PTI, he advised the establishment of a Limited Liability Company as the only legal means of transferring funds from abroad.
He stated that all such donations were handled in a transparent and legal manner and that this was completely legal and within the scope of international regulations.