Traditional Chinese remedies are used to combat Covid.
As Covid-19 spreads throughout China's vast population, infecting millions of people and causing a drug shortage, many people are resorting to traditional remedies to combat the virus's symptoms.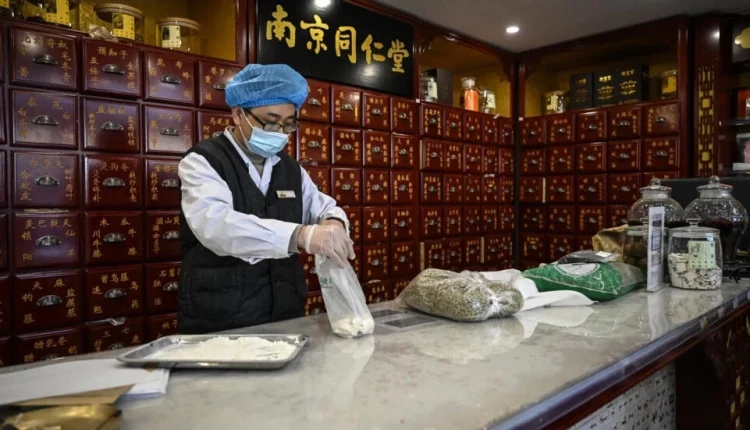 Since the beginning of the pandemic, President Xi Jinping has promoted traditional Chinese medicine (TCM), and health officials have praised its "important role" in the fight against the coronavirus.
TCM, which encompasses herbal remedies, massage, acupuncture, and diets, has been used to treat a wide variety of ailments for thousands of years.
There is a lack of peer-reviewed data to support claims of its efficacy, and critics contend that it is pseudoscientific and ineffective in treating actual illness.
However, it is used by millions in China to alleviate symptoms, frequently in conjunction with modern medicine.
After contracting Covid, 38-year-old Beijing consultant Yu Lei made a herbal tea with cassia twig, a type of Chinese cinnamon, peony roots, liquorice, jujubes, and ginger, which is said to have anti-inflammatory properties.
He told AFP that his fever went away after drinking the brew, and that his family frequently uses Chinese medicines.
Followers like Yu claim that compared to Western medications that "fight the symptoms but rarely the source of the illness," TCM treatments have fewer side effects and work more slowly to regulate the body.
"Actively and objectively publicise the role and efficacy of TCM brews in the treatment of Covid-19," Beijing has urged local authorities to do.
However, Ben Cowling, chair of epidemiology at the School of Public Health at the University of Hong Kong, told AFP: Because they have not been tested in clinical trials, we are unable to determine their efficacy.
"I wouldn't rule out the possibility that some of them are effective, but I also wouldn't rule out the possibility that some of them might even be harmful," the author states.
The World Health Organization only recommends chemical drug-based Covid treatments. When AFP inquired about TCM, the organization stated that it advised nations to "collect reliable evidence and data on traditional medicine practices and products."
Chinese practitioners of Traditional Chinese Medicine (TCM) claim that Western medicine and TCM work well together to treat Covid-19.
They "complement each other and can solve fever, sore joints, fatigue, sore throat, cough, and other symptoms," according to Liu Qingquan, director of the Beijing Traditional Chinese Medicine Hospital.
Numerous users are convinced of its value, and some studies indicate that it may assist in reducing symptoms. When a Covid wave struck Hong Kong last year, capsules of the medication were distributed to all of the city's residents.
However, some Chinese online critics claim that Lianhua Qingwen is no better than peaches in syrup, a common Chinese comfort food for sore throats, and social media users have expressed dissatisfaction at receiving TCM instead of ibuprofen or paracetamol.
Chinese medicine doctor in Beijing, Lan Jirui, told AFP: Western medicine's logic is the same.
The drug will probably be effective if purchased with a doctor's prescription. Maybe not if it was purchased at random from the pharmacy.
"Cannot kill the virus": Throughout the pandemic, TCM doctors and self-taught practitioners have posted recipes and health tips on the internet.
To treat his flu-like condition, retired acupuncturist Li Wen, who is 68 years old, has been pricking himself with needles. He also purchased two Chinese medicines, one of which was an anti-fever remedy made of bamboo.
He stated to AFP, "I supplement that with a nutritious diet of pears, turnips, and ginger."
He stated, "Chinese medicines can be helpful in the fight against the virus, but they cannot kill the virus."
However, I continue to be wary of Western drugs. They have side effects that shouldn't be ignored.
Danni, a 39-year-old Beijing resident, has been taking Pei Pa Koa, a syrup made from plant extracts, in the hope of alleviating a cough and sore throat.
She stated to AFP, "It's not because I can't find Western medicine, but because it's effective and soothing."
To boost my immunity and vitamin C levels, "I also make myself a hot soup of pears and hot water with lemon."
Several of the people AFP spoke to were skeptical.
Grace Hsia, a director in her 30s, stated, "We young people know little about traditional medicine." Most of the time, we choose Western medicines because they work right away.
A Beijing woman of 36 years old, Li Na, stated: For my fever, I took paracetamol, and it worked quickly.
Chinese medicines don't work. They are more commonly taken by people to reassure themselves that they are taking something.