Amsterdam's largest bike garage is unveiled. It is submerged.
The first of Amsterdam's largest-ever bicycle parking complexes, constructed underwater as part of a ground-breaking engineering project, opened on Wednesday. The city had been plagued by ever-shrinking parking space for its hundreds of thousands of bicycles.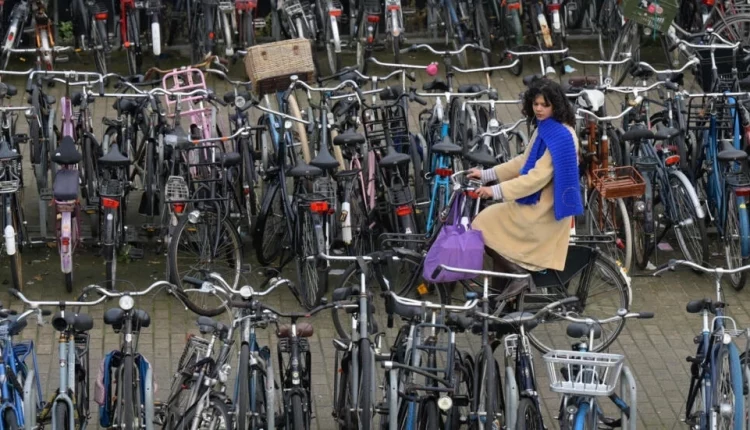 The asylum is developed underneath the Open Safe house Front, an entrance feeder to the city's IJ waterway, and will be trailed by one more close to the IJ itself that will open in February.
They will have a joined limit with regards to 11,000 bicycles in the cycling-distraught Dutch capital.
"Together the asylums will be the biggest in the city," the Amsterdam district said, with the Open Sanctuary Front capacity ready to take 7,000 bikes and the IJ-side site around 4,000.
Development began in 2019 and involved depleting some portion of the Open Shelter Front close to Amsterdam Focal Station.
A period slip by video posted by the Amsterdam district showed how the water was siphoned out, the construction fabricated and the region at last reflooded.
"We have a ton of information and mastery with regards to water," Dutch representative framework serve Vivianne Heijnen told AFP at the initial function.
This capacity "utilizes the space you have in a little country", she said.
Transport lines take cyclists nine meters (30 feet) subterranean level, as per wUrck, the building firm that planned the ultramodern parking spots that expect to bring out their maritime environmental elements.
"The cyclist ventures into a fanciful clam with a harsh outside of basalt and normal stone and a smooth, light inside," the firm said in an assertion.
"Presently you will be guaranteed that you can promptly stop your bike when you come to Amsterdam station," the city's vehicle alderwoman Melanie van der Horst said.
There are an expected 900,000 bikes in Amsterdam for certain 625,000 excursions made everyday, as per the city's 2021 Bike Screen plan – and finding legitimate stopping has for some time been a cerebral pain.