Dissolving assemblies ahead of time further destabilizes country: Rana Sanaullah
Federal Interior Minister Rana Sanaullah on Tuesday said lashed out at former prime minister and Pakistan Tehreek-e-Insaf (PTI) Chairman Imran Khan on Tuesday, stating that dissolving two provincial assemblies of the country only further destabilizes the country.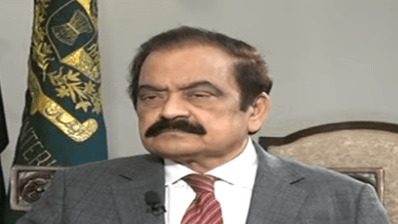 Talking about the acceptance of resignations of PTI members at a time when their party had agreed to return to the house after spending nearly 10 months out, Sanaullah said that they had accepted resignations of only prominent leaders of the party.
He added that there were several PTI lawmakers who had secretly contacted the government and urged them not to accept their resignations.
Sanaullah dismissed PTI's recent U-turn of returning to assemblies, stating that Imran was an anarchist and a serial liar who has not held fast on any of his statements and proclamations.
The interior minister further ruled out accepting the demand of Imran Khan of holding snap polls in the country.
He opined that Imran Khan was a fitna (anarchist) who just wanted to create instability in the country.
Asked about the rumors of a 'Minus Imran' formula being in the works, Sanaullaah said Imran should be 'minus', but through the power of the public vote.
Commenting on the Punjab Assembly dissolution and that they had failed to save it, he countered by saying that the dissolution of the assembly was not a defeat for PML-N in Punjab.
Elahi a hypocrite
The PML-N Punjab chapter president claimed that Punjab Chief Minister Chaudhry Parvez Elahi was responsible for hypocritic gimmicks.
On the absent PTI lawmakers on the day of vote of confidence, Sanaullah claimed that it was Elahi who had asked them not to come.
"Elahi is a hypocrite," the interior minister said, adding, "he was waiting for the right time to make the right move."
"When Elahi realized that game was out of his control, he called MPA Ammar Yasir, who reached the assembly at 12:20am," he added.
Stresses to revisit PML-N ticket policy
With the PML-N now in election mode, Sanaullah had some advice for his party leaders ahead of a key confab in London later this week.
He asked PML-N to revisit its policy on awarding electoral tickets ahead of the upcoming general elections.
Sanaullah said those who have abandoned the party at key moments in past elections, should not be allotted tickets in the next elections.
Imran responsible for all problems
Rana Sanaullah reiterated his stance against PTI chief Imran Khan that the latter was responsible for all the political mess and instability in the country.
He added that Imran wanted to create instability in the country and it has been proved after his decision to dissolve the provincial assemblies.
Commenting on the audio leaks between Hussain Elahi and Wajahat Hussain, the Interior Minister said that PTI and PML-Q's 'criminal plan' has been exposed and urged Supreme Court to take notice of the audio leak in which it was allegedly planned to abduct a member of the national assembly ahead of the vote of confidence in Punjab Assembly.
Nawaz and Maryam return
On the return of party's senior leaders, Sanaullah said that Nawaz Sharif should return to the country in first week of March, ahead of elections in the provincial assemblies expected to take place in April.
He added that Maryam Nawaz Sharif will likely return to the country soon.
It is pertinent to note that party sources say Maryam Nawaz will return to Pakistan on the night between Friday and Saturday this week via Dubai.