Djokovic unsure on injury return after Australian Open 'perfect 10'
New Australian Open champion Novak Djokovic said on Monday he hopes to return to action in a month's time but is "not sure" how quickly his injured hamstring will heal.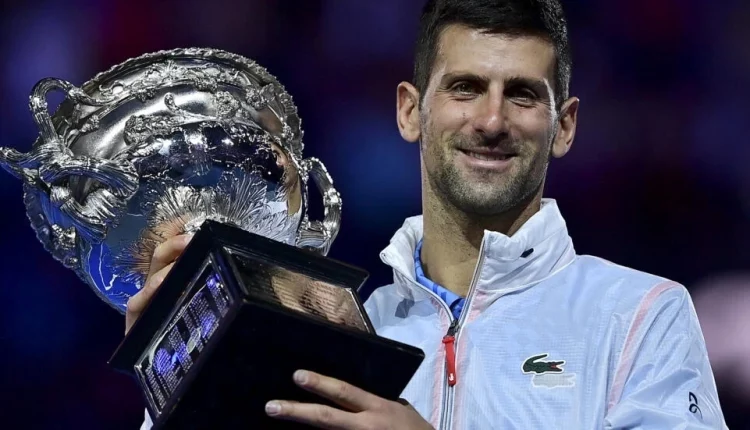 The Serb also said that he didn't have time to properly celebrate winning his 10th Melbourne title on Sunday, which set a record.
Djokovic returned to the top spot in the world rankings after defeating Stefanos Tsitsipas 6-3, 7-6 (7/4), and 7-6 (7/5) to equal Rafael Nadal's men's record of 22 Grand Slam tournament victories.
Djokovic's left hamstring hurt throughout the tournament, but it got better as the Grand Slam went on.
AFP inquired about the condition of the 35-year-old's leg and when he might play again while he was displaying the Norman Brookes Challenge Cup in the gardens of Government House in Melbourne on Monday for a photo shoot.
He responded, "I'm not sure; I'm going to do some medical checks in the next few days." Then I can discuss it more thoroughly and comprehend the circumstance.
After winning a warm-up event in Adelaide prior to the Australian Open, Djokovic pulled his hamstring and was severely hampered at Melbourne Park, particularly in the first round.
He used to not practice between matches at one point.
"As of right now, I am still signed up for the tournament in Dubai, which is in a month. He stated on Monday, "I hope I will be able to return to the courts in a few weeks."
He continued, "Let's see, you know. I'll talk to the medical team and then take it from there."
Goran Ivanisevic, Djokovic's coach, stated that the majority of players would not have played after the extent of the hamstring injury was revealed by a pre-tournament scan.
Ivanisevic stated to reporters, "But not him – he is from outer space."
His brain functions differently. He gave everything, including 77 treatments per day. It got better and better each day.
Djokovic said he didn't have time to party on Sunday night to celebrate his latest victory.
He smiled when asked how he had celebrated the victory: with the media and the control of doping!
When I got back to my lodging at 3 a.m., it had been a long night, but it was also a huge relief.
He continued, "It is always incredibly satisfying to end a tournament and the entire journey here to Australia with a Grand Slam win."
I did not yet have the opportunity to truly celebrate as much as I would have liked. I suppose that will occur in Europe.