Nawaz Sharif will return to Pakistan soon: Maryam Nawaz
Pakistan Muslim League-Nawaz (PML-N) Senior Vice President and Chief Organizer Maryam Nawaz on Saturday stated that deposed prime minister Nawaz Sharif will soon return to Pakistan.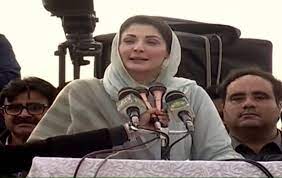 When she returned to Pakistan after spending nearly four months in London with Nawaz, she made this statement in front of a large crowd of PML-N supporters.
Maryam stated that despite Nawaz's three expulsions from the PM's office and two forced departures, the perpetrators cannot prevent him from returning to Pakistan.
She expressed her gratitude to Nawaz and Shehbaz Sharif for placing their faith in her and giving her the senior vice president's position as the party's chief organizer.
She stated that she would not take a day off before the elections.
When he was removed from power on July 28, 2017, Maryam stated that, and the country has experienced a sharp decline ever since.
She stated, "I never understood whether Nawaz Sharif was punished for being eligible or ineligible."
She added that the nation was ruined rather than developing.
She added, "I am aware there is inflation today, that power, and is unaffordable," and that it will take time for them to rectify the wrongdoings and poor management of the previous four years.
She stated, "We need to fix what happened in the past five years before we hold accountability for today."
She took a swipe at Imran Khan, the former prime minister, and said that he didn't know how much things cost.
"He used to say that he learned about the rising prices of goods from the television and used to read chits about the prices of goods, and today you are concerned about the prices of essentials?"
"We don't worry about elections,"
She stated, "The PML-N will win with a heavy mandate whenever there are elections in Punjab."
She mentioned Imran's unprovoked dissolution of assemblies in Punjab and Khyber Pakhtunkhwa and his subsequent crying over it.
After that, she set out for Jati Umra, her home.
Return after four months She left the airport on Saturday evening to be greeted by a large crowd of PML-N supporters** when she arrived in Pakistan.
Her flight from Abu Dhabi to Lahore had earlier made an earlier landing in Pakistan on Saturday afternoon. At 3:30 p.m. on Saturday, the PML-N leader boarded a Pakistan International Airline (PIA) flight to return to Pakistan as planned.
In support of Maryam Nawaz, PML-N supporters gathered inside the plane prior to disembarkation.
Delays Haroon Bhatta, a member of the PML-N entourage, became ill as the flight began to taxi on the Abu Dhabi runway, requiring the plane to return.
As the plane turned toward the hangar, the crew called for an ambulance.
The plane resumed its takeoff procedure after the ill passenger was removed from the aircraft.
Flight PK-264 of Pakistan International Airlines (PIA) is Maryam's way back to Pakistan. It is scheduled to land in Lahore at 3:05 p.m.
Returning to put a stop to Pakistan's development Maryam Nawaz told the media on the plane that over the past four years, the country's path of progress, which had been set by deposed prime minister Nawaz Sharif, had come to a complete stop.
"Pakistan is now paying its price for the full-stop put on Pakistan's development."
She hoped to get rid of the stop sign and get Pakistan moving in the right direction.
Maryam stated, "I hope to fulfill the responsibilities entrusted to me by the party," referring to the enormous responsibility of serving as chief organizer.
Long journey to Pakistan Maryam flew to Dubai on Friday from London. She went to Abu Dhabi early on Saturday morning to visit her relatives before taking a flight to Pakistan.
Maryam Nawaz had traveled to London in September to receive treatment for her throat and meet her father, Nawaz Sharif.
In the end, she had surgery on her throat in Geneva.
Sanaullah said PMLN party leader Nawaz Sharif had instructed Maryam and other senior party leaders on how to run the campaign for the upcoming by-elections in Punjab and Khyber Pakhtunkhwa when she spoke to the media in London on Friday. Sanaullah will travel to Pakistan on Saturday.
Maryam is expected to begin reorganizing the party and lead the election campaign upon her return to Pakistan.