The 1%: Assets of Pakistani lawmakers nearly doubled in 5 years
The wealth of 1,170 parliamentarians in Pakistan increased by 85% over the past five financial years, according to an investigation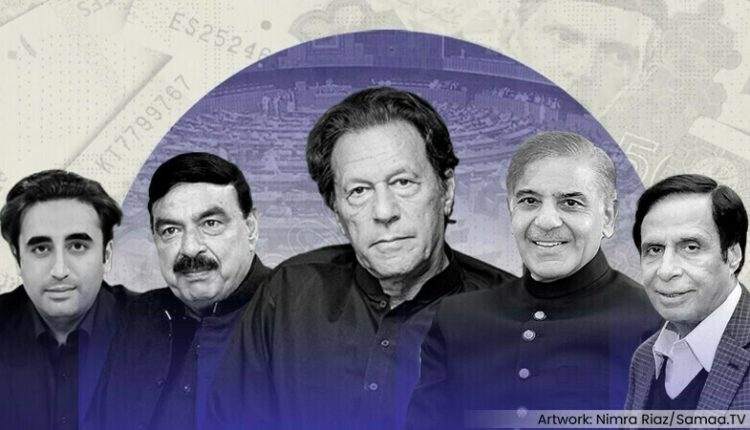 The SIU found that all 1,170 members of parliament (including those in the provincial assemblies and both the upper and lower houses) had assets worth approximately Rs49 billion or around $314 million in 2015.
However, by 2019-20, their combined wealth had risen to approximately Rs91 billion or $570 million.
The SIU analyzed the income of parliamentarians, including the salaries they receive and information from other sources that they get, and scrutinized their tax records submitted to the Federal Board of Revenue, the Election Commission of Pakistan, and other official sources.
The wealth of the MPs also included assets of their family members who were dependent on them.
MPs collectively owned wealth and assets worth Rs79.8 billion during tax years 2018-19, increasing by Rs12 billion (15%) to Rs91 billion in 2019-20, noting an average increase of Rs10 million in the wealth of each lawmaker.
The independent assessment was conducted by senior officials from the Federal Board of Revenue (FBR), the political finance wing of the Election Commission of Pakistan (ECP), Director General Intelligence and Investigation (IR) and other official sources suggest that the lawmakers hold assets within and outside the country.
High net worth
The investigation by the SIU also found that some 311 MPs (around 27%) either had investments in private firms or ran their own businesses. Their combined with a financial worth was around Rs21 billion or $130 million.
Of these 311 lawmakers, 71 had declared that they had disassociated themselves from their businesses after becoming members of Parliament. But their tax records show that they are paying more taxes today compared to their wealth declared with the ECP.
Feeling the tax pinch?
On average, an MP paid approximately Rs1.4 million or around $7,000 in income taxes in 2018-2019.
Collectively, MPs paid around Rs1.6 billion or $11 million in taxes in the 2018-19 tax year.
However, this ratio fell by 60% in the 2019 tax year, when MPs collectively paid just Rs980 million or $6 million in taxes.
This meant that from paying Rs1.4 million in tax per lawmaker on average, the average fell to just Rs0.8 million.
The billionaire club
A review of documents relating to the wealth of 200 key MPs from various parliamentary parties between 2014 and 2019, and found that around 25 MPs were declared billionaires, while 71 MPs have assets worth over Rs500 million each.
A closer inspection of documents filed by the lawmakers showed that the wealth or assets of some MPs and their dependents increased exponentially by as much as 300%.
Of these, four dozen MPs saw their wealth and assets increase by over 100% in the past five years, while a dozen parliamentarians saw their wealth rise by rise 200% to 300% during this time.
Some 29 MPs declared assets worth around Rs5 billion in the UAE, Norway, Denmark, UK, USA, Australia, and Canada.
'Poor' MPs
Nearly 41 MPs declared that they owned assets worth less than Rs1 million each.
Moreover, approximately 111 MPs declared owning assets worth less than Rs10 million.
Tax not paid
Official records showed that dozens of MPs were either not paying income tax or were not registered with the tax authorities.
Of the 1,170 elected and appointed lawmakers, as many as 161 MPs did not file their income tax returns.
Over two dozen female MPs owned financial assets linked with their millionaire husbands but were surprisingly not registered as regular taxpayers with the authorities.
Some two dozen women MPs collectively owned assets worth Rs100 million but were not registered with tax authorities as well.
More than 37 MPs who were not registered with FBR had declared assets worth over Rs101 million each.
ECP and FBR also served notices to 70 MPs either whose assets witnessed an unusual increase or there were some serious discrepancies in their declarations.
Some 98 MPs collectively possess assets worth around Rs37 billion while 12 of them owning assets over Rs500 million each, but were not active taxpayers, records suggested.
Assets by politicians
SAMAA TV evaluated the asset declarations of prominent MPs of ten leading parliamentary parties in an attempt to learn the facts about this rise in assets.
Below are the assets of some of the most prominent politicians or those who recorded the greatest decrease or increase in assets.
Imran Khan
Arguably Pakistan's most prominent parliamentarian, Pakistan Tehreek-e-Insaf (PTI) Chairman Imran Khan, who has been in the news for his Toshakhana exploits, saw his assets swell by 250% from financial year of 2017 to 2020.
In terms of value, his declared net worth jumped from Rs40 million in 2017 to Rs142 million during fiscal year 2020.
His tax records in MPs' tax directory published by the FBR showed that his normal income was Rs43.6 million and that he paid Rs9.9 million as taxes in 2019.
Interestingly, he paid a cumulative sum of Rs1.7 million as taxes in the preceding period including Rs194,936 in 2013, Rs218,237 in 2014. Rs76,244 in 2015, Rs159,609 in 2016, Rs103,763 in 2017, and Rs282,449 in 2018.
Shehbaz Sharif
Contrary to the trend, Prime Minister Shehbaz Sharif saw his net wealth decrease by 25% due to an increase in his liabilities over the past five years – in part owing to increased legal expenses, official record revealed.
Premier Sharif owned assets worth Rs247 million with Rs147 million in liability in 2019-20.
By contrast, he owned assets worth Rs241 million with liability of Rs116 million in 2015.
The Tax Directory 2019 stated his income remained Rs46 million by paying Rs8.3 million as taxes in the financial year 2019.
In 2015, his wife Nusrat Shehbaz owns assets worth Rs247 million and his other wife Tehmina Durrani owns assets worth Rs9 million.
Tax record of the PML-N president revealed a gradual increase in his tax liabilities during this time. He paid Rs4.383 million in 2013, Rs4.888 million in 2014, Rs6.33 million in 2015, Rs7.038 million in 2016, Rs8.27 million in 2017, and Rs9.73 million in taxes in 2018.
Moonis Elahi
The scion of the Chaudhry's of Gujarat and son of the current Punjab chief minister, MNA Moonis Elahi's assets and wealth saw an increase of over 114% during the past four years.
He owned assets worth Rs652 million in 2015 while his wealth swelled to Rs1.4 billion in 2019, official record showed.
His normal income was shown as Rs35.4 million in the FBR's tax record.
He paid taxes worth Rs2.6 million in 2015, Rs5.186 million in 2016, Rs5.78 million in 2017, Rs5.169 million in 2018 and Rs6. 534 million in 2019.
Parvez Elahi
Punjab Chief Minister Parvez Elahi, who is in a storm currently over his seat, saw his assets and wealth increase by 14% during the past four years.
He and his wife declared owning assets worth Rs226 million in the fiscal year 2019.
This was up from assets worth Rs197 million he had declared owning in 2015.
His normal income with FBR was declared as Rs7.214 million in MPs' tax document of FBR.
He paid taxes worth Rs1.35 million in 2014, Rs1.404 million in 2015, Rs1.483 million in 2016, Rs2.131 million in 2017, Rs2.071 million in 2018 and Rs0.933 million in 2019.
Asif Ali Zardari
Former president and Pakistan Peoples Party (PPP) Co-Chairman Asif Ali Zardari owned assets worth Rs715 million in 2020, up from Rs677 million in 2019.
The tax directory showed that he had an income of Rs283 million and paid Rs2.218 million in taxes during 2019.
He paid Rs1.385 million in 2013, Rs1.843 million as taxes in 2014, Rs2.105 million in 2016, Rs2.632 million in 2017, and Rs2.891 million as taxes in 2018.
Bilawal Bhutto Zardari
Foreign Minister and PPP Chairman Bilawal Bhutto Zardari owned assets worth Rs1.6 billion in 2019.
FBR's tax directory showed his normal income was Rs39 million in total and that he paid Rs535,243 as taxes in 2019.
He paid taxes of Rs303,692 in 2013, Rs419,056 as taxes in 2014, Rs237,152 in 2017, and Rs294,117 in 2018.
Asad Umar
Assets and wealth of Pakistan Tehreek-e-Insaf (PTI) lawmaker Asad Umar increased by seven percent from 2013, an investigation conducted by SAMAA TV's Investigation Unit (SIU) showed.
The SIU undertook a months-long effort to acquire, review and analyze data about the wealth of PTI's parliamentarians members and others from 2015 to 2019. The documents were sourced from the political finance wing of the Elections Commission of Pakistan (ECP), the Cabinet Division and the federal tax authorities.
PTI leader Asad Umar and his wife owned assets worth Rs619.2 million in 2013. They grew by seven percent to Rs668 million in 2019.
He paid Rs4.26 million as taxes in 2015, Rs6.369 million in 2016, Rs4.85 million in 2017, Rs5.346 million in 2018 and Rs4.272 million in 2019, according to his declarations with FBR.
Former federal minister for water and prominent Pakistan Tehreek-e-Insaf (PTI) member Omar Ayub and his wife saw their wealth rise by 203% from 2015-2019.
Read the full story here: Omar Ayub's assets swelled by 203% from 2015-2019